Gay Boston: The Latest
The ideal began to get real on Tuesday, as seven of the top contenders for the Democratic presidential nomination sparred over the price tag on health care reform and even revealed similarities on issues like marijuana legalization.
A straight man in Georgia allegedly pretended to be gay in order to worm his way into the confidence of a lesbian whom he then raped.
Ahead of her new single "Stupid Love," celebrate Lady Gaga's 10 best songs!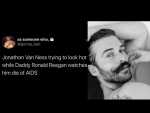 A former Sanders staffer's tweets got him sacked, but the vitriol he posted continues to make waves. Case in point: A crude joke about "Queer Eye" cast member Jonathan Van Ness dying from AIDS.
Actor and lifestyle/health CEO Gwyneth Paltrow took to Instagram Wednesday to react to the coronavirus virus affecting numerous parts of the world.
President Donald Trump said he'll discuss the coronavirus threat at a White House news conference Wednesday, a day after he sought to minimize fears of the virus spreading widely across the U.S.
Ryan Murphy's upcoming limited Netflix series about the late fashion designer Halston has cast the show's Liza Minnelli.
The queer '70s group the Village People took to Facebook this week to respond to fans' outcry after President Donald Trump played their music at a recent rally, saying that "the President's use is 'perfect[ly]' legal."
The recent killing of a person believed to be a transgender woman that has shocked and angered many in Puerto Rico is likely a hate crime, Gov. Wanda Vázquez said Tuesday.
A scathing new report reveals that dozens of HIV-positive women were forced or coerced into sterilization after giving birth at public hospitals in South Africa.
Democratic presidential candidate Pete Buttigieg has cancelled four events in south Florida set for Wednesday because of illness.
Boston, MA
Paula Plum, Karen MacDonald, and Tyrees Allen star in a British eco-disaster drama that plumbs the depths of a complicated friendship. Plum chats with EDGE about the play's hard questions about the future.
Grammy-winning singer Duffy says she's been out of the public limelight for years to focus on recovering from being "drugged and raped and held captive over some days."
Mallinckrodt Pharmaceuticals doled out lavish perks for top U.S. employees who hit or beat sales goals for prescription opioids and other drugs.
Virgin Galactic has received nearly 8,000 online reservations of interest since its first successful test flight into space 14 months ago, the company said Tuesday as it nears commercial operation.
The number of Americans packing their bags for stateside Spring Break trips increased 24% over the past year, with an 18% increase in international getaways, according to Allianz Global Assistance's Top 10 Spring Break Destinations survey.
Tesla's partially automated driving system steered an electric SUV into a concrete barrier on a Silicon Valley freeway because it was operating under conditions it couldn't handle and because the driver likely was distracted.
Are you getting ready for your next vacation but don't have the proper suitcase? Here are five options at different budgets to suit your needs.
Scientists can't tell yet how deadly the new virus that's spreading around the globe really is — and deepening the mystery, the fatality rate differs even within China.
The stocks of American Airlines and several cruise lines were among the worst performers in the Standard & Poor's 500 index Monday, as investors fret that the new coronavirus could take hold outside China and further disrupt international travel.
Boston, MA
For this special, once-a-year benefit, the New England Center for Circus Arts invites NECCA alumni and professional performers from around the world to donate their talents to raise money for NECCA's outreach and scholarship programs.
Revelers dressed in costumes and reaching for beads thrown from floats will take to the streets when Carnival season reaches its peak, their celebration tinged with grief after two paradegoers were hit and killed by floats in the run-up to Fat Tuesday.