Gay Boston: The Latest
Check out these photos from the Brut IML party at Fantasy Nightclub in Chicago.
The Federal Aviation Administration says it's investigating a decision to exclude Chick-fil-A from an airport concession contract in San Antonio over opposition to the fast-food chain owners' record on LGBT issues.
Elle Fanning, the youngest juror ever at the Cannes Film Festival, said she's been transformed by her experience at the French festival.
The race to succeed British Prime Minister Theresa May is heating up, the field of Conservative contenders is quickly growing and the focus is squarely on how to handle Brexit.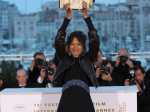 South Korean director Bong Joon-ho's raucous social satire "Parasite," about a poor family of hustlers who find jobs with a wealthy family, won the Cannes Film Festival's top award, the Palme d'Or, on Saturday.
Before Instagram and Facebook, before selfies and filters that perfect selfies, there was Andy Warhol, using his art to imbue friends, family, celebrities — even himself — with a certain mystique.
The race to succeed British Prime Minister Theresa May is heating up, the field of Conservative contenders is quickly growing and the focus is squarely on how to handle Brexit.
A flood of laws banning abortions in Republican-run states has handed Democrats a political weapon heading into next year's elections.
The word that knocked runner-up Naysa Modi out of last year's Scripps National Spelling Bee was "Bewusstseinslage" — one of those flashy, impossible-sounding German-derived words that make the audience gasp when they are announced.
Nearly two decades after the Aryan Nations' Idaho compound was demolished, far-right extremists are maintaining a presence in the Pacific Northwest.
President Donald Trump held up and read from a sheet of paper in the Rose Garden this past week as he argued he's been hounded by investigators in the Russia probe for no reason.
Boston, MA
Acting coach, director, director of Wheelock Family Theater's intensive acting program for teens... Fran Weinberg knows theater from just about every angle. She chats with EDGE about Titanic Theatre's production of Paul Rudnick's comedy "I Hate Hamlet."
History could be made when the top award of the Cannes Film Festival, the Palme d'Or, is handed out Saturday.
You won't pay for health care in retirement with one lump sum. That's the way these expenses are often presented, though, and the amounts are terrifying.
An autistic man walks out of a store without paying for a toy he picked up. He's followed by a storekeeper demanding he come back inside. The situation quickly escalates, and police are called.
In the seven years since the housing crash ended, home values in more than three-quarters of U.S. metro areas have climbed faster than incomes, according to an Associated Press analysis of real estate industry data provided by CoreLogic.
The world's largest carmaker is creating its first all-electric plant and phasing out production of the internal combustion-engine cars built by generations of local workers.
This year, Polo Ralph Lauren will unveil the Pride capsule collection, a five-piece gender-neutral collection for adults and children.
The geographic locations where Americans live are shifting in ways that can negatively affect the quality of their drinking water.
As Cape Cod's tourist season gets underway, there's uncertainty after two shark attacks rattled beachgoers last year and sparked a still unresolved debate about how the vacation destination should respond.
The annual GLSEN Respect Awards were held at Cipriani 42nd Street to honor the work of student leaders, educators, community organizers, influencers, and corporations who serve as exemplary role models and have made an impact on LGBTQ youth.