Gay Boston: The Latest
Pregnant women, young men and teens are all part of the rapidly growing number of syphilis patients coming to the Choices Medical Services clinic in the rural southwestern corner of Missouri.
Get swole, prepare a bug-out bag, grab a go-cup and maybe you'll have a better chance of surviving the omnicide.
Hollywood's powerhouse gay glitterati are throwing their support to Mayor Pete's candidacy, with none other than Ryan Murphy set to host a fundraiser for him in June.
There were more than a few sniffles from the audience at the premiere of "Avengers: Endgame" Monday night in Los Angeles, which Chris Evans and Chris Hemsworth proudly admitted contributing to.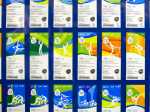 It's Olympic ticket sales time again, perhaps the least understood side of the games.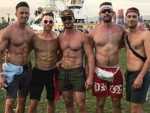 A gay couple who was photographed with Aaron Schock last week recently took to Instagram, apologizing for appearing with the disgraced former Republican Congressman after a Twitter outcry.
Boston Pride announced that it is commemorating the 50th anniversary of the Stonewall Inn uprising with a series of events, highlighted by a Community Forum at historic Faneuil Hall on June 3, 2019 at 7 pm.
Chicago's top prosecutor drew heavy criticism after she recused herself from the case against Jussie Smollett and then complained in text messages to a subordinate that her office had overcharged the "Empire" actor.
An Alabama deputy has been put on administrative leave for posting a homophobic comment on a Facebook post about a gay teen who killed himself.
Philadelphia city government can require that contractor Catholic Social Services does not discriminate against same-sex couples in its foster care program, a federal appeals court ruled Monday.
California Sen. Kamala Harris joined the call for Trump's impeachment as five leading Democratic presidential contenders clashed in a series of prime-time town hall meetings that exposed deep divisions in a party desperate to end the Trump presidency.
Boston, MA
Epic Theatre Company's "American Drag" is playwright Kevin Broccoli's continuation of his highly popular "American Strippers," which paired up Greek goddesses and American folk heroes in a Texas strip club.
A quirky Japanese tale about family.
Democrat Elizabeth Warren is proposing the elimination of existing student loan debt for millions of Americans, part of a sweeping set of education funding proposals.
Washington Gov. Jay Inslee and other state Democrats are criticizing a conservative state representative for appearing to support spying on political opponents.
Don't let any of these myths prevent you from making the most of available travel rewards.
Tesla CEO Elon Musk expects to start converting the company's electric cars into fully self-driving vehicles next year as part of an audacious plan to create a network of robotic taxis to compete against Uber and other ride-hailing services.
Large format drinks (sangria, margarita pitchers, etc.) have been trending since the invention of Sunday brunch, but just as much wow factor can be found on the plate these days.
Given all the attention around measles, here's what people who believe they have been vaccinated should know.
A Kansas couple is turning the concept of covered wagons that pioneers once used to journey west into a luxury experience for campers who want to enjoy nature without sacrificing the comforts of electricity and spacious beds.
Organizers of the LGBTQ+ events during Gay Disney — KindRED Pride Foundation, Girls in Wonderland, One Magical Weekend, and Tidal Wave Party - will provide buy one get one free (BOGO) event tickets to members of the LGBTQ military and veteran community.