Gay Boston: The Latest
Hillary Clinton says "nobody likes" her former presidential rival Bernie Sanders, even as the Vermont senator remains entrenched among the front-runners in the Democratic race, with the Iowa caucus beginning in less than two weeks.
A new report from a government agency reveals that HIV rates in the United Kingdom have plummeted sharply - more than 70%, in fact - thanks to an all-out effort including testing, PrEP, needle exchanges, and other strategies.
YouTube star Davey Wavey has enlisted gay adult performer Diego Sans to help him with his kissing game.
A gay bar in Providence, RI, says that staffers for the Buttigieg campaign relocated an event that had originally been slated to take place there, and says that the reason for the switch was a "dancer pole" that is part of the venue.
Colton Haynes is teaming up with "Broad City" co-creator and star Ilana Glazer for a new comedy called "I Run Hot" where he'll play an "#InstaGay."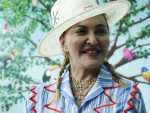 Madonna is cancelling another concert from her "Madame X" tour for medical reasons, following her decision to nix a Boston show back in November.
President Donald Trump's impeachment trial is set to unfold at the Capitol, a contentious proceeding over whether to remove him from office for pressuring Ukraine to investigate his Democratic rivals and obstructing Congress' ensuing investigation.
Prince Harry says he's taking a "leap of faith'' as he steps back from royal duties in an attempt to build a more peaceful life — one free of the journalists who have filmed, photographed and written about him since the day he was born.
The New York Times has endorsed not one but two candidates for the Democratic nomination for president, Minnesota Sen. Amy Klobuchar from the party's moderate wing and Massachusetts Sen. Elizabeth Warren from the progressive wing.
A wrongful death lawsuit filed by Prince's family members has been quietly dismissed in recent months, suggesting family members have reached settlements with defendants.
The administrator of the elite Catholic school in Cancun, Mexico, used to take the girls out of class and send them to the chapel, where the priest from the Legion of Christ religious order would sexually abuse them.
The one time the Mormon Church took on the LGBTQ Community and lost.
Planned Parenthood announced Tuesday that it is endorsing a Democratic challenger to Republican Sen. Susan Collins in Maine, saying Collins "turned her back" on women and citing her vote to confirm Brett Kavanaugh to the Supreme Court.
Prime Minister Shinzo Abe said Monday that Japan will form a space defense unit to protect itself from potential threats as rivals develop missiles and other technology.
Many deductibles reset Jan. 1, forcing patients to pay thousands of dollars for care or prescriptions before most insurance coverage starts.
Tesla is disputing claims by a California man that all three models of the company's cars can suddenly speed up on their own without the driver touching the accelerator pedal.
On the final day of menswear shows in the French capital, Lanvin put on an ode to contrasting styles, while British designers reigned supreme.

Chinese President Xi Jinping said Monday that it's "extremely crucial" to take every possible measure to combat a new coronavirus that has infected 217 people in the country.
Venezia Nativa, an association of entrepreneurs on Burano and two neighboring islands, is trying to breathe fresh life into old trades to attract new residents and persuade young islanders to stay.
Evangelist Franklin Graham, who has condemned gays and lesbians as sinners, tried to bring his anti-LGBT beliefs to Key West. He was met with around 150 protesters who support the LGBT community and welcome them with open arms.