Gay Boston: The Latest
Hugh Jackman says he's looking forward to coming back to Broadway next year as a classic roguish traveling salesman in a play he first performed in as a teenager.
Complications and even deaths of several out-of-state women in recent years have spiked concerns over safety of the cosmetic procedures, prompting a bill before the Florida Legislature this year to impose stricter regulations.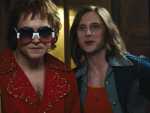 The director of the Elton John biopic "Rocketman" took to Twitter to address rumors that a gay sex scene was cut from the film.
U.S. health officials are taking another look at the safety of breast implants, the latest review in a decades-long debate.
A Southern California company is voluntarily recalling whole avocados over possible listeria contamination.
The director behind the 2018 breakout horror drama "Hereditary" had some choice words to describe upcoming movie "Midsommar."
The second season of "Pose" just got a dose of star power.
A media narrative declaring President Donald Trump the clear victor of special counsel Robert Mueller's Russian electoral tampering investigation settled in Sunday before more than a handful of Mueller's actual words has become public.
Actress Candace Cameron Bure says "family sticks together no matter what," in what seems a sign of support for "Fuller House" co-star Lori Loughlin, who has been charged in an alleged college admissions scandal.
Rob Gronkowski the football player is finished .
Russia is reacting with an "I told you so" on Monday in state media after the conclusion of Special Counsel Robert Mueller's investigation into Moscow's involvement in the U.S. presidential election didn't find evidence of collusion.
Boston, MA
Paula Plum, a founding member of Actors' Shakespeare Project, takes the reigns for ASP's first co-production with Lyric Stage: Shakespeare's timeless comedy of love and confusion, "Twelfth Night." EDGE finds out all about it!
This stunning award winning coming-of-age tale with world-wide appeal is only the 2nd LGBTQ movie to be made in Guatemala.
Britain has just a few weeks to break its Brexit impasse, with the fate of the country's departure from the European Union, and of Prime Minister Theresa May, both hanging in the balance.
Apple is expected to announce Monday that it's launching a video service that could compete with Netflix, Amazon and cable TV itself.
The U.S. government claimed that ditching paper medical charts for electronic records would make health care better, safer and cheaper. Ten years and $36 billion later, the digital revolution has gone awry.
Less than a week after a series of critical tweets from the president over an Ohio plant closure, General Motors is announcing plans to add 400 jobs and build a new electric vehicle at a factory north of Detroit.
A vintage plane that went from flying passengers in the 1950s to running drugs in the 1970s visited Times Square on Saturday before its next transformation into a cocktail lounge at the former TWA terminal at Kennedy Airport.
The World Health Organization says Ebola has spiked in Congo in recent days because of "increased security challenges," a week after its director-general predicted the outbreak might be contained within six months.
A Southern California city overwhelmed by throngs of visitors seeking out a rare wildflower bloom says it has a parking plan.
Bar patrons in New York's Greenwich Village were in the right place at the right time when Adele and Jennifer Lawrence showed up.