Gay Boston: The Latest
When Karamo Brown first appeared on Netflix's "Queer Eye," he admits he wasn't his authentic self. The show's Culture guru was balding, but was resorting to cosmetic methods to hide it, though with some difficulties.
Lady Gaga is finally back!
Officials scrambled Tuesday to halt the spread of the burgeoning new virus, from northern Italy where troops were dispatched to enforce quarantines, to South Korea, where some neighborhoods in a city of 2.5 million were brought to a near standstill.
The anti-LGBTQ group One Million Moms is the latest organization of conservatives taking issue with Billy Porter's "Sesame Street" appearance in which he wear's his fabulous Oscars gown.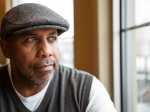 Blacks are at higher risk for several health conditions in the U.S. This is true for heart disease, type 2 diabetes, stroke and more. And it is also for Alzheimer's disease, in which blacks have two times higher incidence rates than whites.
Queer musician Perfume Genius (a.k.a. Mike Hadreas) announced his new album and shared a music video for a new song.
The burning in effigy of a same-sex couple and their child in the Croatian town Imotski prompted condemnation from governmental officials and LGBTQ equality advocates alike.
Republican U.S. Rep. Duncan Hunter's resignation from Congress last month after pleading guilty to a corruption charge unleashed a GOP slugfest over the vacancy in one of the party's few remaining House seats in California.
Connecticut Republicans will honor three high school runners who are suing to block a policy that allows transgender athletes to compete in girls sports, the party chairman said Monday.
Chris Evans is in talks to star in the upcoming "Little Shop of Horrors" remake musical, which will be directed by Greg Berlanti ("Love, Simon"), with Billy Porter lending his voice to the carnivorous plant Audrey II.
A married heterosexual couple in Poland were sentenced to one year following their arrest for bringing explosive devices to an LGBTQ Pride in Lublin in September, 2019.
Boston, MA
Paula Plum, Karen MacDonald, and Tyrees Allen star in a British eco-disaster drama that plumbs the depths of a complicated friendship. Plum chats with EDGE about the play's hard questions about the future.
With over 200 million albums sold worldwide, the Eagles are one of the most beloved and enduring American rock 'n' roll creations ever.
Democrats' desire for dramatic political change has emerged as a driving force in the party's presidential primary battle, one that extends beyond the progressive wing.
A U.S.-based chemical company is fighting to obtain a visa for a Ukrainian software developer who has spent years working on a complex computer system.
Before you buy any of the following, you'd be smart to investigate lower-cost alternatives and to consult an objective, knowledgeable third party, such as a fee-only financial planner.
Kia is joining its affiliate Hyundai in recalling thousands of vehicles in the U.S. because water can get into a brake computer, cause an electrical short and possibly a fire.
A study of 1,000 general population women and 1,000 women of color explored the seemingly never-ending journey for the perfect skincare routine.
The CDC deemed 220 U.S. counties vulnerable to HIV outbreaks because of overdose death rates, the volume of prescription opioid sales and other statistics tied to injecting drugs.
Sir Richard Branson has launched his new luxury Virgin Voyages cruise ship in Dover.
Boston, MA
For this special, once-a-year benefit, the New England Center for Circus Arts invites NECCA alumni and professional performers from around the world to donate their talents to raise money for NECCA's outreach and scholarship programs.
Revelers dressed in costumes and reaching for beads thrown from floats will take to the streets when Carnival season reaches its peak, their celebration tinged with grief after two paradegoers were hit and killed by floats in the run-up to Fat Tuesday.