Gay Boston: The Latest
When Judy Gold and Varla Jean Merman take to the stage at the Calderwood Pavilion this weekend, you may just wonder: Who is taller? And is that why they are performing together? Varla Jean Merman (Jeffery Roberson) explains.
Thousands of Dutch farmers, many driving tractors, poured into The Hague on Wednesday to protest government moves to rein in carbon and nitrogen emissions to better fight climate change.
Maryland Rep. Elijah E. Cummings died early Thursday due to complications from longstanding health challenges, his congressional office said. He was 68.
The parents of Matthew Shepard, the gay college student murdered in 1998, assailed Attorney General William Barr on Wednesday for what they called hypocrisy on LGBT rights.
Rioting raged in Barcelona and several other Catalan towns for a third straight night Wednesday,
Washing his hands of Syria, President Donald Trump declared Wednesday the U.S. has no stake in defending the Kurdish fighters who died by the thousands as America's partners against IS extremists.
Damon Lindelof's adaptation of the "Watchmen" comic series for HBO is a thoughtful and timely drama that's more about race, identity, and America's painful history than cape-wearing superheroes.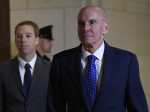 The swift-moving impeachment probe pushed onward Wednesday as a former top State Department aide testified that the Trump administration's politicization of foreign policy contributed to his resignation.
"Tarzan" actor Ron Ely's wife was stabbed to death in their California home by their 30-year-old son, who was then shot and killed by sheriff's deputies, authorities said Wednesday.
The climbers were closing in on the top of California's second-highest peak when they came upon the grisly discovery of what looked like a bone buried in a boulder field.
A proposed ban on so-called conversion therapy in Utah is in danger of being derailed after the influential Church of Jesus of Christ of Latter-day Saints came out in opposition, just months after it said it wouldn't stand in the way of a similar measure.
Boston, MA
What I wanted from a production of "King Lear" is something messy and indulgent that pulsed with a wicked energy. But the Actors' Shakespeare Project's production is a beast of another matter, one that reaches into the void and comes back emptyhanded.
Elton John, co-writer of the chart-topping 1994 Lion King soundtrack, called the new 2019 version a "huge disappointment" in an interview with GQ. Check out the rest of his comments here.
Britain and the European Union said Thursday that they have struck an outline Brexit deal after days of intense see-saw negotiations — though it must still be formally approved by the bloc and ratified by the European and U.K. Parliaments.

The western Joshua tree needs protection under the California Endangered Species Act because of threats from climate change and habitat destruction, the Center for Biological Diversity said in a petition Tuesday.

Under the Affordable Care Act, nonprofit hospitals are required to provide free or discounted care to patients of meager incomes — or risk losing their tax-exempt status. These price breaks can help people avoid financial catastrophe.
On the picket lines at a General Motors transmission plant in Toledo, Ohio, passing cars honked and striking workers celebrated a tentative contract deal by munching on 10 pizzas dropped off by a supporter.
This classic spicy Italian pasta dish can be on your table in only 20 minutes. It's one of the easiest pasta recipes but at the same time surprisingly flavorful and perfect in its simplicity, like almost every Mediterranean dish.

Voters got a better look at Democrats' health care priorities on Tuesday, as 12 of the leading candidates vowed to codify abortion access, threatened to jail opioid company executives and added a few more details to their health plans.
Romania's autumn fairs are a loud, colorful reminder that summer has come to an end. And for many families in poorer areas of the country, they are one of the few affordable events of the year.

Downtown Las Vegas celebrated its largest Pride yet, with a fabulous nighttime parade and a day and a half of festival fun.