The motion says military prosecutors relied on a strand of hair and a soldier, who changed his statement six times, then went AWOL before Hubbard's trial.
The chase started late Saturday night in Edina and ended in Richfield with officers shooting the man, Brian J. Quinones, who had streamed himself live on Facebook during the chase.
India's space agency said it lost touch Saturday with its Vikram lunar lander as it made its final approach to moon's south pole to deploy a rover to search for signs of water.
It's a scene many Muscovites have grown used to seeing this summer as a new wave of anti-government demonstrations gripped the Russian capital: Two masked, heavily clad riot policemen drag away a shrieking teenager.
China's Huawei has unveiled a new advanced chipset ahead of the upcoming launch of its latest flagship smartphone even as uncertainty hangs over whether the device can use Google's Android.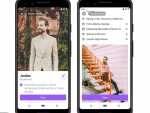 Facebook is tackling a new frontier: love.
Samsung says it will start selling its highly anticipated folding phone on Friday, after the original launch date was delayed by months because of embarrassing problems with the screen.
Facebook says it is ending its practice of using face recognition software to identify users' friends in uploaded photos and automatically suggesting they "tag" them.
Google will pay $170 million to settle allegations its YouTube video service collected personal data on children without their parents' consent.
President Donald Trump declared Wednesday that he wanted to move quickly on gun violence legislation, but his new push came just days after posting an ad on his official Facebook page that Democrats were looking to seize Americans' firearms.