Top Story
A woman accused of hacking Capital One and at least 30 other organizations is a flight risk, a threat and should be kept locked up until her trial, U.S. prosecutors said in court d...
The World Health Organization says it's theoretically possible to wipe out malaria, but probably not with the imperfect vaccine and other control methods being used at the moment.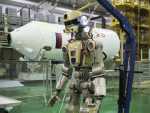 A Russian space capsule carrying a humanoid robot has failed to dock as planned with the International Space Station.
A healthy population of red-legged frogs is hopping in Yosemite National Park, helped by a reintroduction program with the San Francisco Zoo.
Event organizers hoping to eliminate ticket scams and huge markups in the secondary market are increasingly turning to companies that use technology to allow fans to buy and resell their tickets while putting caps on prices.
Ethical questions abound: As Georgetown's Center on Privacy and Technology put it, facial recognition could lead to "a world where, once you set foot outside, the government can track your every move."