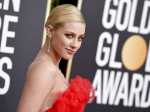 Fashion, albeit a tad underwhelming, returned to the Golden Globes on Sunday in shades of green, red, yellow and sparkly gold after last year's show of #MeToo solidarity that turned the carpet black.
The Golden Globes' return to red carpet color after last year's protest in black was led by Lady Gaga in powerhouse periwinkle.
It's only a matter of time before temperatures drop down to single digits across much of the country. EDGE offers you these five picks to keep warm (and on trend) this winter.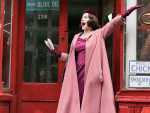 Fans of "The Marvelous Mrs. Maisel" know that the show's clothes deliver eye-popping color and to-die-for style, but they might not know the costumes represent more than 1950's couture. They also meticulously reflect each character's mood and development.
Having added a pair of high-end brands to its stable, Michael Kors is changing its name to Capri.
YouTube fashion influencer Marcel Floruss of One Dapper Street offers his recommendations for how to look your best this winter with these 12 fashion picks.
Whether you live someplace sunny or are headed on a warm weather winter getaway, Swimco's sexy 2019 collection will have you getting wet in style.
Less than two years after he shook up the New York fashion world with a splashy runway debut for Calvin Klein, designer Raf Simons is leaving the company.
Fashion influencer Devan Anderson offers must-wear tips for the coming year, so you'll look you're best no matter where you're headed.
Glitter beards, Christmas earrings and festive knickers are among the ways millennials will celebrate the big day this year, a study found.