1 thru 10 of 3997 Stories
Watch Tan France from "Queer Eye" give John Mulaney a makeover attempting to make him more "fuckable."
It was quite literally the final curtain for Kenzo's Carol Lim and Humberto Leon at Paris Fashion Week on Sunday, after the duo's eight successful years at the creative helm of the house came to a close.
Here are some highlights from the final day of spring-summer 2020 men's and co-ed collections from the Kenzo show and others by Lanvin and Paul Smith.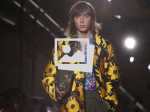 Here are some highlights of the men's spring-summer 2020 collections, including Louis Vuitton, Issey Miyake and more.
The French capital, in all its splendor and architectural beauty, was the star of Paris Fashion Week Thursday as houses put on elaborate outdoor displays in some of the city's most iconic squares.
Here are some highlights of the men's spring-summer 2020 runway shows.
Ralph Lauren has collected an accolade from Prince Charles and it's a doozy: Honorary Knight Commander of the Most Excellent Order of the British Empire for Services to Fashion.
Netflix's show "Queer Eye" says it's bringing fabulousness to the masses for two more seasons.
Milan mainstays Fendi and Armani closed out four days of menswear previews on Monday, capping a lighter-than-usual program with some of the Italian fashion world's top labels altering their show rhythms.
Both houses chose special venues, away from their usual showroom locations.
1 thru 10 of 3997 Stories