Diane Paulus Responds to Being Labeled 'Amy Cooper' by Black Collaborator. (Just Try and Find It on the American Repertory Theater Website)
Earlier this week actor/writer/activist Griffin Matthews published a scathing video about racism he says he experienced while producing a musical. Matthews aimed his comments at director Diane Paulus, the artistic director of the American Repertory Theater. Paulus responded yesterday on the A.R.T. website.
Matthews talked about his experiences in bringing the show - which he co-wrote with collaborator (and now husband) Matthew Gould - to stages in Cambridge, MA, where the A.R.T. is located, and in New York.
"Earlier this week, one of the show's authors, Griffin Matthews, came forward with disturbing accusations of racism behind the scenes of the musical, which Paulus directed at A.R.T. in 2014 and again off-Broadway at Second Stage in 2015," reported Broadway World.
The musical, titled "Witness Uganda," played at the American Repertory Theater in February, 2014; it was retitled "Invisible Thread" when it played at New York's Second Stage in December, 2015. Paulus directed both productions. She isn't directly named by Griffin in his eleven-minute video, but it is clear that she is the target of his comments.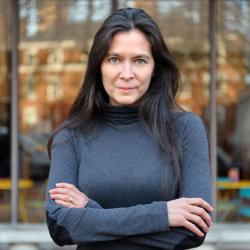 "Matthews' statement was meant to demonstrate insidious racism in the theatre community — what he called the Amy Coopers of the world, in reference to the white woman who, when asked by a black man to leash her dog in Central Park, called the cops to report a black man threatening her." Playbill reported. "Never explicitly naming Paulus, Matthews used 'Amy Coopers' as the archetype of the white person who believes they are liberal and not racist, yet acts in ways that are racist."

Paulus responded Friday on the ART website, but on Saturday morning, her statement could no longer easily be found on the theater's webpage. (Those interested can find it by doing a search on Paulus's name.)

In part, she wrote:

"As a director, it has always been my passionate goal to create brave spaces for artists to flourish. In a process filled with creative differences, many rewrites, and heated discussions around a subject matter steeped in the pain of racial violence, it was my responsibility to create a space where those issues were handled with the deepest care. I could and should have done better.

"I am profoundly sorry for the pain I caused Griffin and any other person involved in our process. I am learning. With every new project and every new process, I re-commit myself to engaging in deeper self-reflection, to creating braver spaces for more collaborative art-making, and to listening to feedback to help me be a better artist, director, and citizen. We live in a racist world, and no one is immune to it, myself included. To transform this world, we need first to acknowledge the role we play in it. This letter is part of that process."

Here are some responses to Paulus's statement on Twitter, some negative:





Some confused:





But few in support:





As of publication, Matthews has yet to respond to Paulus's comments.

You can watch Matthews' video below:



Comments on Facebook