While in Quarantine, Michelle Visage Wants to Make You Laugh
Even the pandemic isn't stopping Michelle Visage, the "Drag Race" dynamo who recently began airing her new reality show "How's Your Head, Hun," that is available in the U.S. on the WOW Presents Plus website. She will also be making appearances on "Werq the World Season 2" (which starts airing on June 9) and "Canada's Drag Race" (which premieres on July 2) both on WOW Presents Plus.
Show business started early for Visage, who began performing at the age of 17 and moved to New York to fulfill her dreams of a record contract and a Broadway show. She immersed herself in the '80s club scene and become part of the city's ballroom scene, having the distinction of being one of the first to vogue on national television when she was featured on "The Latin Connection" in 1988. She did join a girl band that had a hit single, and became a successful radio D.J., but it wasn't until she joined Season 3 of "Drag Race" that her career really took off. (RuPaul had asked her to join Season One, but contractual obligations kept her from doing so.)
She quickly became a star of the Emmy-winning competition show and known for her no-nonsense and shrewd critiques of the competing queens. "Drag Race changed her life," wrote a profile in the Guardian, "but it has also had a wider cultural impact (it has won multiple Emmys; the New York Times called it 'the most radical show on TV')."
EDGE spoke to Visage recently about filming her quarantine experience, her remembrances of the ballroom scene from the 1980s, and why she has a tattoo that reads "drag queen."
In this together
EDGE: The pandemic isn't stopping you - you have not one, but three upcoming projects. First, how did "How's Your Head, Hun?" come about?

Michelle Visage: The first thing I thought of was, "we are all in this together. For real." So I thought, why not let everyone know that they are not alone and the majority of us are NOT Kardashians and don't have a compound to live in through this. So why not just set the cameras up and try to let people in and make them laugh. We just want people to forget what is happening in the world for at least 30 minutes once a week!

EDGE: Can you explain the title?

Michelle Visage: It's a double entendre. The first being a quote from the Elvira movie where someone asks her "how's your head?" and she says, "well I haven't had any complaints yet!" and we say that joke all of the time on "RuPaul's Drag Race." The other is quite literal; how are you doing through this mentally because it really can take a toll.

EDGE: I know you don't want to give too much away, but what has the experience been like?

Michelle Visage: It has definitely been FULL ON! I checked with the family first of course and as soon as they said they were in, we were off and running! We are working mostly every day but we are enjoying turning around some kind of "art," and I use that term loosely, and making people laugh! That is all I wanted to do!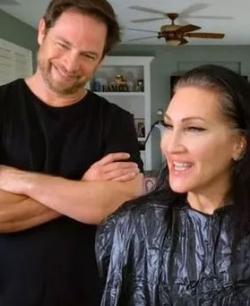 Born hustler
EDGE: You have been quarantining with your husband, David, your daughter, Lola and Lola's newish boyfriend? How did he end up in quarantine with you?

Michelle Visage: When the lockdown started I was in London and my daughter called me and was really sad. I knew that they would be trying to see each other and I was worried there were too many things that could happen with not wearing masks or social distancing, etc. So I made a deal; if he stays with us, they don't leave, they follow the rules and make it work. I had never even met him at the time but he is a good kid, so I am relieved!


EDGE: You described yourself in an interview recently as a "born hustler." Where does your drive come from?

Michelle Visage: That drive definitely comes from how I was raised. I come from very humble beginnings and both of my parents worked full-time jobs. I was, what we called, a latch key kid. I let myself in and out every day. My parents always worked hard and I knew from an early age I would have to do the same if I wanted to get out of there. The hustle began early on.

EDGE: You entered show business at the age of 13 when you were cast in a play at a local theater in New Jersey where you grew up. Do you remember what that experience was like?

Michelle Visage: I DO! I remember because I wasn't popular, boys didn't like me, girls didn't think I was cool, so all I had was music and theatre. It was where I would go to become someone other than me, kind of like drag. I auditioned for a play that was a paying job and when I booked it, I felt powerful and validated because no one believed in me apart from my Mom and Dad, but I did it! The paychecks were small but they were mine.
Lourdes knows her
EDGE: When you first moved to New York, you were welcomed into the Magnifiques, one of the drag houses that would participate in ballroom competitions recreated today on "Pose." How does this show hold up to the reality as you remember it?

Michelle Visage: I think it is pretty much on point! They are doing a great job with it touching on important things for the community like the truths of the 80s AIDS epidemic and what it really looked like in NYC. I am proud of "Pose."

EDGE: You have written that you slept with men and women during the period, but you don't identify as bisexual. Why not?

Michelle Visage: Because I never had a proper relationship with a woman, I didn't feel right claiming that title. I felt that it took away from true bisexuals and I would never do that for a headline or any other reason. I love men and I love women, I just happened to marry a man.

EDGE: You once said of Madonna, "What the fuck? Now, did she steal that from me?" Has Madonna ever acknowledged how you influenced her?

Michelle Visage: I never flat out said that she stole from me as that would be VERY presumptuous, but there were strong coincidences from having mutual friends in the ballroom scene when "Vogue" came out. We ballroom kids all ran the same circles, clubs and balls so things were "borrowed". I know Lourdes knows who I am but I don't think the queen does, TBH.

EDGE: Is she still your idol?

Michelle Visage: She has always and will always be my idol.

EDGE: And have you been watching her corona diaries?

Michelle Visage: Are you kidding?!! We just got a one-legged dance to Missy Elliott! How can you NOT watch?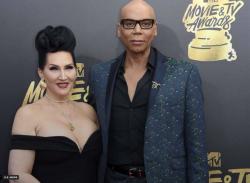 I am a drag queen
EDGE: Having lived through the AIDS epidemic when you moved to NYC in the mid-1980s, do you see any parallels with the current pandemic?

Michelle Visage: The only parallels that I see are these: scientists and doctors scrambling trying to create vaccines or find "cures" and the President in office REALLY dropping the ball, mocking it when it was first on our radar. When the AIDS epidemic hit NYC, NO ONE wanted to help these men, NO ONE wanted to touch them regardless of PPE. Their families were disgraced by their own sick children and would let them die alone and not even claim their bodies. Our own President (Reagan) wouldn't even say the word AIDS or talk about it, with his own press secretary laughing about the crisis. It was shrouded in shame. With COVID, families aren't allowed to be with their sick loved ones, it is very different. They die alone sadly, but not because their families have disowned them. HUGE difference.

EDGE: You have a tattoo that reads "Drag Queen" on your thigh. Why ?

Michelle Visage: I mean, it SHOULD be obvious, but I will tell you - because I am a drag queen. Ru said it best, "we are all born naked and the rest is drag." My life revolves around these talented queens and the art of drag. I have loved it since I first saw it at the age of 17 and I have loved and respected it ever since. It is a big part of who I am and I am proud to call myself a drag queen!
Comments on Facebook