The Gatekeepers
(Source:Sony Pictures Classics)
The office of director of the Israeli security agency Sherut haBitachon haKlali - better known by its initials, the "Shin Bet" - is such a secret that the identity of the agency's top man is never known to the public until after he steps down. In Dror Moreh's new documentary, half a dozen former Shin Bet leaders step out of the shadows to discuss Israel's relations (or lack of them) with Palestine, recount historic events from the point of view of the nation's security operatives, and assess one another as professionals and as people.
"The Gatekeepers" is only 97 minutes long, and its subject - and viewpoint - is fairly narrow, but this is compelling stuff. When the film's interview subjects discuss the controversial nature of some of their work, it becomes obvious that they are fighting forces far greater than terrorism, both domestic and Palestinian. In one case, Shin Bet adjusts its terrorist-killing techniques after the use of a one-ton bomb results in collateral casualties - but the smaller bomb they drop on a gathering of top terrorist leaders fails to kill any of them.
Other operations go more smoothly, though they have to be played with extreme patience and precision; one successful op brings down Yahya Ayyash, a Hamas bomb maker who meets his end thanks to an exploding cell phone.
The group's job isn't just to defend the country against Palestinian threats, though. Hard-line religious and political extremists present just as much of a threat; in one case, the agency prevented a bombing that would have destroyed the Dome of the Rock, a significant religious building constructed on the Temple Mount over the ruins of Jewish temples. By destroying the building, the domestic terrorists sought to prompt the arrival o the Jewish Messiah; more likely, they would have triggered a devastating war that Israel may well not have survived.
Sometimes, however, the Shin Bet is unable to protect Israel and its officials. It's with a sense of lingering frustration and grief that one former security head describes events leading up to the assassination of Israeli Prime Minister Yitzhak Rabin, who was killed not by Hamas, but by one of his own countrymen.
Moreh presents his film with a sense of style, dystopian as it may be in some ways given the frequent image of banks of monitors he employs. "The Gatekeepers" has been nominated for an Oscar, and deservedly so; this film offers a nuanced and broadly informative view of Israel and the challenges it faces. More's the pity that this film probably won't find a mass audience here, despite the perennial prominence the nation of Israel takes in American politics.
Moreh himself has also noted elsewhere that American Jews see Israel through rose-tinted glasses, while the country struggles against darker forces from within: That's a prevalent undercurrent in his provocative, powerful film.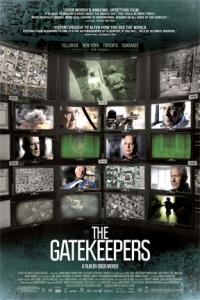 Info
×
Related Story
Read More »
Kilian Melloy serves as EDGE Media Network's Associate Arts Editor and Staff Contributor. His professional memberships include the National Lesbian & Gay Journalists Association, the Boston Online Film Critics Association, The Gay and Lesbian Entertainment Critics Association, and the Boston Theater Critics Association's Elliot Norton Awards Committee.