Beyond the Hills
Cosmina Stratan and Cristina Flutur star in 'Beyond the Hills'
When a young nun takes in a longtime friend, the newcomer's rages and terrors upset the peace and contemplation that define life at a newly established, unconsecrated convent in Romanian filmmaker Cristian Mungiu's new movie.
Voichita (Cosmina Stratan) and Alina (Cristina Flutur) grew up together in an orphanage, and there's more than a passing hint that two were once lovers. In the years since they parted ways, Voichita has entered religious life in the Orthodox church, while Alina has gone to live and work in Germany. When Alita pays her old friend a visit at the convent, it's with the hope of convincing her to leave and rejoin her in the secular world.
Instead, Alina's plans are derailed -- first by illness, when she's hospitalized for a lung infection and some sort of raging fit that looks like the acute phase of a mental illness. Her departure is rendered meaningless by the fact that she's missed her transportation back to Germany, and probably lost her job there are well. With nowhere else to turn, Alina settles in at the convent, where the sisters live, pray, and work under the guidance of a priest they address informally as Papa (Valeriu Andriuta) and a Mother Superior (Dana Tapalaga) who acts as matriarch for their little ad hoc family of faith.
Alina alternates between trying to fit in as a novitiate and throwing insane jealous fits; it's clear that she's in need of the medications her brother, Ionut (Ionut Ghinea), secures for her (and which she seems to go off of in short order), and both Papa and Mother Superior recognize this. (Mother Superior is a nurse by training.) But they remain convinced that the root of Alina's problems lay in possession by the devil; eventually, they act in accordance with that belief, taking making drastic choices that are well intentioned but torturous to watch.
There are meanings and messages galore in this new movie. Those looking for a comment on relationships might find Mungiu making plain the central point that it's impossible to follow someone else to your own path; indeed, that's the way the connection between Alina and Voichita plays out.
On a larger canvas, it's possible†to read this film as†a screed against the idea of handing care of the sick, the poor, and the marginalized over to religious entities driven by age-old superstitions in which brain chemistry or some other innate biological element is confused with the predations of evil spirits. (Sexual minorities know the costs of this sort of thing all too well.) There are moments in which the film all but mocks the easily frightened inhabitants of the convent, who tremble at a coarse word and faint at the sight of a black mark, in the shape of a cross, that appears in a split log.†
But there is also a sense of wistfulness for a way of life that offers simpler modes of being. Work, meditation, community, and compassion; it seems a pleasant alternative to a hectic outside world consumed by noise, fuss, and materialism. The film even presents something that seems to be a miracle, though it's presented in a fleeting and matter-of-fact way.†
But the larger world really is out there, and as confusing and scary as it is, it's also the source of human vitality (nuns and priests, after all, don't generate offering, for all that they criticize gay couples for not adding to the world's human population). Mungiu's lens gazes fondly, for a time, at the quaint, pastoral rhythms that define the cloistered life, but it's toward the real world, bustling and corrupt, that the film gives a knowing look and a wink.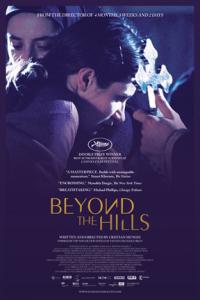 Info
×
Also in Entertainment
Read More »
Kilian Melloy serves as EDGE Media Network's Associate Arts Editor and Staff Contributor. His professional memberships include the National Lesbian & Gay Journalists Association, the Boston Online Film Critics Association, The Gay and Lesbian Entertainment Critics Association, and the Boston Theater Critics Association's Elliot Norton Awards Committee.