Spider-Man: Homecoming
'Spider-Man: Homecoming'
A squeaky-voiced 15-year-old boy named Peter Parker (Tom Holland) spends his days nerding out with his best friend (Jacob Batalon), gazing starry-eyed at his crush (Laura Harrier), and being picked on by his high school's token tool-bag (Tony Revolori). He also spends a good chunk of his time texting and calling Happy Hogan (Jon Favreau), the chauffeur of Tony Stark/Iron Man (Robert Downey Jr.).
You see, the overly-enthusiastic Peter is itching to jettison his existence as a high school loser and participate in some Avengers action as Spider-Man, after being recruited by Stark to fight alongside him during the major action set piece of last year's "Captain America: Civil War." Likewise, Marvel Studios is just as desperately eager to shoehorn as much of these callbacks as it feasibly can into the script. The film aspires to be "Iron Man 4" as much as it aims to launch the third film incarnation of Spider-Man this side of the 21st century.
When you push the contractual obligations and studio dick-measuring aside, however, "Spider-Man: Homecoming" excels in becoming a rather funny high school comedy that more often than not nails the humor, heart, and characteristics of the adolescent experience. The tie-ins to the Marvel Cinematic Universe didn't annoy me as much here as they often do in these films, probably because they're mostly used to enhance the hilarity of the film's high school environment.
"Spider-Man: Homecoming" asks what a high school set in this superhero-populated universe would look like, and then answers that question with delightful dividends, like a group of girls sitting on the bleachers during gym class playing "Fuck, Marry, Kill" using members of the Avengers. There is also a running gag where Captain America delivers PSA-style educational videos, with Chris Evans delivering killer lines like, "So, your body's changing, huh? I know what that's like." How do you make a moment like this even better? By having Hannibal Buress play a surly gym teacher who makes the astute observation that Cap is actually a war criminal now.
When the movie relaxes and ignores the many films to come before it and the necessary roads it must pave for future installments, "Spider-Man: Homecoming" is a light, fun, and quite entertaining affair that channels elements from both comic book zaniness and novelistic character development. There are interesting moments of political commentary, an engaging villain (Michael Keaton, playing a mechanically-winged alien weapons dealer named "The Vulture"), and a warm father/son dynamic that naturally occurs between Holland and Downey Jr.
There's also Aunt May (Marisa Tomei), who has been slowly decreasing in age through the various versions of Spider-Man to hit the screen. Here, she's mostly referred to as "May," since I guess you can't call someone an aunt if they're constantly the butt of ill-advised "She's so hot!" jokes. Aside from her character's thinly-written arc, Tomei is still great in this (as she often is).
Overall, "Spider-Man: Homecoming" is a balanced mix of welcomed ingenuity that works and familiar mechanisms that seem unavoidable at this point when it comes to these damned universe-building studio blockbusters. Visually, the film has some admittedly spectacular-looking sequences, especially those that occur from great heights, producing a sense of vertigo I don't think I've experienced since 2015's "The Walk." Thematically, there are strong moments throughout, but at the end of the day the primary theme for these films always seems to be connecting the dots between the past and future Marvel entries. Those moments where "Spider-Man: Homecoming" chooses to embrace the present is where it ultimately shines the most.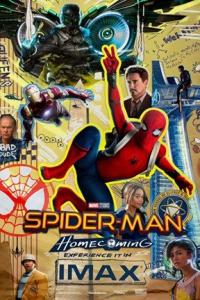 Info
Cast
Peter Parker/Spider-Man :: Tom Holland
Adrian Toomes/Vulture :: Michael Keaton
Tony Stark/Iron Man :: Robert Downey
May Parker :: Marisa Tomei
Happy Hogan :: Jon Favreau
Pepper Potts :: Gwyneth Paltrow
Michelle :: Zendaya
Aaron Davis :: Donald Glover
Ned :: Jacob Batalon
Liz :: Laura Harrier
Flash :: Tony Revolori
Herman Schultz/Shocker No. 2 :: Bokeem Woodbine
Anne Marie Hoag :: Tyne Daly
Abe :: Abraham Attah
Coach Wilson :: Hannibal Buress
Principal Morita :: Kenneth Choi
Ms. Warren :: Selenis Leyva
Betty :: Angourie Rice
Mr. Harrington :: Martin Starr
Doris Toomes :: Garcelle Beauvais
Phineas Mason/The Tinkerer :: Michael Chernus
Mac Gargan :: Michael Mando
Jackson Brice/Shocker No. 1 :: Logan Marshall-Green
Karen/Suit Lady :: Jennifer Connelly
Agent Foster :: Gary Weeks
Randy :: Christopher Berry
Jason :: Jorge Lendeborg
Mr. Cobbwell :: Tunde Adebimpe
Cindy :: Tiffany Espensen
Sally :: Isabella Amara
Charles :: Michael Barbieri
Seymour :: J.J. Totah
Mr. Delmar :: Hemky Madera

Crew
Director :: Jon Watts
Screenwriter :: Jonathan Goldstein
Screenwriter :: John Daley
Screenwriter :: Jon Watts
Screenwriter :: Christopher Ford
Screenwriter :: Chris McKenna
Screenwriter :: Erik Sommers
Producer :: Kevin Feige
Producer :: Amy Pascal
Executive Producer :: Victoria Alonso
Executive Producer :: Patricia Whitcher
Executive Producer :: Jeremy Latcham
Executive Producer :: Stan Lee
Executive Producer :: Avi Arad
Executive Producer :: Matt Tolmach
Cinematographer :: Salvatore Totino
Film Editor :: Dan Lebental
Film Editor :: Debbie Berman
Original Music :: Michael Giacchino
Production Design :: Oliver Scholl
Art Director :: Brad Ricker
Art Director :: Beat Frutiger
Art Director :: Lauren Abiouness
Art Director :: Audra Avery
Set Decoration :: Gene Serdena
Costume Designer :: Louise Frogley
Casting :: Sarah Finn

×
Also in Entertainment
Read More »