Patriots Day
Mark Wahlberg stars in 'Patriots Day'
There's an obvious question about the newest Peter Berg/Mark Wahlberg collaboration, "Patriots Day," about the 2013 bombing of the Boston Marathon: Is it too soon?
It's a good question, but not for the reason you might be thinking. Bostonians are tough, pugnacious, and resilient. For them, it's probably not too soon to re-live, cinematically, the events of three and a half years ago, when two terrorists, Chechen brothers Tamerlan and Dzhokhar Tsarnaev, detonated home-made explosives at the Marathon's finish line, killing three and injuring more than 200 others.
But for cinemagoers everywhere, it very well might be too soon, after the recent "Deepwater Horizon," for another Berg/Wahlberg juggernaut, based on actual events, that places Wahlberg's character in the center of the story. In this case, Wahlberg plays a fictional character, a police sergeant named Tommy Saunders who manages to crop up at the story's most interesting and pivotal moments.
He's a cunning composite of a character, melding vastly different traits into a single persona: Whining about his injured knee (an injury sustained, evidently, while in a brawl with another cop, whom he "kicked in the teeth") one moment, then springing into action with selfless courage the next; swigging from a purloined bottle of booze even as he comes up with the idea to confiscate every cell phone in the area after the blast in order to comb pictures and videos for clues; summoning from memory a compendium of businesses along Newbury Street where security cameras might have tracked the path and progress of suspects (though one wonders why a simple database search referencing a map couldn't have obtained the same result); explaining to the FBI's SAC (Kevin Bacon) the city's complicated attitudes about crime and punishment (Bostonians will never rat out one of their own who commits a murder, but they'll pounce on any terrorist with unparalleled fury); even injecting himself into a ferociously intense firefight between cops and terrorists in Watertown, despite being a Boston police officer.
The use of a composite or fictionalized character in popular re-tellings of historical events is a common enough narrative device; it's a means to tie together disparate events and locales and create a through-line. But a more documentary approach would have worked just as well -- better, maybe, given some of the contrivances that Berg and his co-writers have to cook up to Saunders on the scene. The character would have worked fine if given a less ubiquitous role; in fact, the film would probably have functioned quite well without him, because the real dramatic meat in all this isn't Tommy's angry flare-ups when he arrives home to a house full of worried friends and relatives all demanding answers he doesn't have, nor Tommy's idealized marriage. (After all, what action hero doesn't need a strong and composed wife who'll hear about the indelible images of horror he's seen that day?)
Rather, it's the aspect of the procedural that gives this film emotional impact and a steady sense of urgency. More compelling than Saunders are real figures like Massachusetts Gov. Deval Patrick (Michael Beach). Boston Police Commissioner Ed Davis (John Goodman), and Watertown police officer Sergeant Jeffrey Pugliese (J. K. Simmons), who engaged one of the terrorists -- elder brother Tamerlan Tsarnaev -- in a dramatic one-on-one face-off, first as Tsarnaev was racing toward him while firing his gun and then in a brief scuffle that ended when the fleeing Dzhokhar ran over his own brother in the escape vehicle, a carjacked SUV. When these characters come onto the screen, the film crackles to life, less homey but harder of edge. (Simmons' character is given one of the film's few heroic punchlines, and perhaps the only one that works, when, panting, his foot pinning the badly injured Tsarnaev to the pavement, Sgt. Pugliese mutters that he needs to quit smoking.)
We're never going to comprehend the minds of terrorists, and the film doesn't really try. The dynamics between the brothers is reduced to a barely functional older/younger, mentor/mentee relationship, in which the older, married Tamerlan is depicted as the sort of bully who writes off his own mistakes as the result of other people's inadequacies. Dzhokhar is similarly reduced to an eager (and naive) kid who seems to think he's living in a video game -- he clamors for a gun of his own to fire; he complains that he's not allowed to drive the upscale SUV the pair take over while holding its owner, an Asian student named Manny (Jimmy O. Yang) hostage. (Brief glimpses at Dzhokhar's college friends, a group of stoners who stumble onto bomb-making materials and then hide them from officials, offer a portrait by proxy of Dzhokhar's mentality.) Most mysterious -- and properly left as such -- is the thinking of Tamerlin's wife, Katherine Russell (Melissa Benoist). Her few gnomic comments sound like something a Charlie Manson groupie might come up with. There's a whole other movie implied in her relationship with her husband.
Buried in the film's busy shuttling between tonalities is another love story, that of Patrick Downes and Jessica Kensky, a young married couple who were standing near one of the home-made explosive devices when it detonated. Downes lost one leg; Kensky lost both. They were separated for a time, ending up in different hospitals. Their reunion made for a media-friendly portrait of enduring love.
Downes and Kensky show up at the film's end, a mini-memorial of sorts in which other real people appear to offer their comments. So tacked on that it's almost tacky, this coda belongs in some other movie -- a documentary, preferably, rather than a dramatic feature (such as the upcoming Jake Gyllenhaal drama "Stronger," which focuses on a victim of the bombing). In fact, such a documentary already exists; HBO aired "Marathon: The Patriot's Day Bombing," featuring Downes and Kensky, earlier this month.
What "Patriots Day" does well is evoke a sense of the several days that elapsed between the bombings and younger brother Dzhokhar's capture, when a sense of shock transmuted to a spirit of community in Boston, and the city went into a sort of stasis for an entire day as residents "sheltered in place" while law enforcement combed the streets for Dzhokhar. (He was later found hiding in a small boat that was being stored in a backyard; another dramatic showdown ensued, ending with Dzhokhar's surrender and arrest.)
Be warned that the re-creation of the confusion and carnage in the immediate aftermath of the explosions is intense and realistic. Rest assured, though, that the film -- for its occasional gaps in coherence -- avoids a sense of exploitation.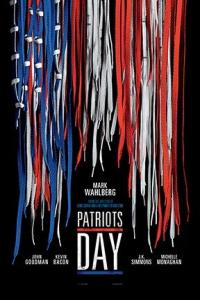 Info
×
Also in Entertainment
Read More »
Kilian Melloy serves as EDGE Media Network's Associate Arts Editor and Staff Contributor. His professional memberships include the National Lesbian & Gay Journalists Association, the Boston Online Film Critics Association, The Gay and Lesbian Entertainment Critics Association, and the Boston Theater Critics Association's Elliot Norton Awards Committee.