Anthropoid
Anna Geislerová and Cillian Murphy star in 'Anthropoid' (Source:LD Entertainment)
Director and co-screenwriter Sean Ellis takes an unflinching look at the courage and brutality that define a historic moment in the world's struggle against the Nazis with his new film "Anthropoid."
The year is 1941 when the film begins, and the season is a cold and snowy winter. Seven operatives enter Nazi-occupied Czechoslovakia via parachute in order to carry out an assassination attempt against the third-highest ranking officer in the Nazi military machine, Reinhardt Heydrich, credited with creating and implementing the so-called "Final Solution" to wipe out the Jewish population in Europe. Heydrich has been dispatched to Czechoslovakia to eradicate the anti-Nazi resistance; the question is whether, and how, the men sent by the country's government in exile will succeed in eradicating Heydrich.
Resources are few and friends are hard to find. Almost the entire resistance has been destroyed; those who remain are uncertain that killing Heydrich is such a good idea. For one thing, it will bring the wrath of the Nazis down on the Czechs even harder, and possibly lead to the extermination of everyone in the nation. But the two men in charge of the operation -- Josef Gabcík (Cillian Murphy) and Jan Kubis (Jamie Dornan) -- are determined to follow orders, and the leader of what remains of the resistance, Jan Zelenka-Hajský (Toby Jones) believes that, all things considered, those orders should be left unchallenged.
Josef and Jan are installed with a sympathetic family, and find a pair of pretty women to hang around with out in public, theorizing that feminine companionship will make them less conspicuous. Times being what they are, and tomorrow remaining uncertain, both men fall in love with their female counterparts: Josef becomes smitten with Lenka (Anna Geislerová) and Jan eventually proposes to Marie (Charlotte Le Bon).
The romances are sweet, but the film, like its protagonist, remains focused -- almost grimly so -- on the mission, which takes months of preparation and planning. Finally, in May of 1942, hearing that Heydrich is about return to Germany, the small resistance cell decides to act -- and their strike against Heydrich not only prompts vicious Nazi retaliation as feared, with entire villages being slaughtered and then razed to the ground, but also results in a huge bounty being placed on the operatives' heads. Holed up in a church, the men formulate various plans for escape and survival -- but the Nazis are closing in, and everyone with whom the men have come into contact is at risk of torture, summary execution, and other unhappy outcomes.
Murphy delivers considerable gravitas as Josef, while Dornan plays the gentler, more uncertain Jan with complexity. Other roles seem one-note by comparison, but Geislerová has a chance to shine when her character, Lenka, explains why she's committed to the resistance. She and Murphy are an effective onscreen pairing, as are Murphy and Dornan.
Though more historically accurate than, say, "Hangmen Also Die" (the Bertolt Brecht-authored Fritz Lang film that told the same story in a fictionalized manner), "Anthropoid" feels dramatically hobbled in it first half, proceeding in fits and lurches. When the film finally does gather steam, the tension level correspondingly rises: Ellis skillfully, and gradually, notches up the suspense. When a long, violent standoff unfolds, it feels earned in terms of the action and noise it throws off.
The heroic actions of the seven men celebrated in the film led directly to larger and decisive consequences. The world powers that had, in 1938, simply handed Czechoslovakia over to the Nazis began to reconsider their positions. As an entertainment, this film is a mixed bag, but as a lesson in courage, "Anthropoid" makes its case in no uncertain terms. The determination shown by those resistance fighters helped shape history.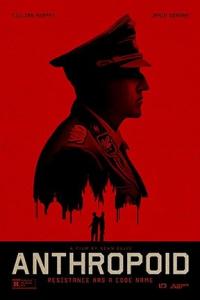 Info
Cast
Jan Kubis :: Jamie Dornan
Josef Gabcík :: Cillian Murphy
Marie Kovárníková :: Charlotte Le Bon
Lenka Fafková :: Anna Geislerová
Uncle Hajský :: Toby Jones
Adolf Opalka :: Harry Lloyd
Mrs. Moravec :: Alena Mihulová
Ata Moravec :: Bill Milner
Mr. Moravec :: Pavel Reznícek
Karel Curda :: Jirí Simek
Josef Bublík :: Sam Keeley
Reinhard Heydrich :: Detlef Bothe
Ladislav Vanek :: Marcin Dorocinski
Jan Hrubý :: Mish Boyko
Josef Valcík :: Václav Neuzil

Crew
Director :: Sean Ellis
Screenwriter :: Sean Ellis
Screenwriter :: Anthony Frewin
Producer :: Mickey Liddell
Producer :: Pete Shilaimon
Executive Producer :: Anita Overland
Executive Producer :: Léonard Glowinski
Executive Producer :: Krystof Mucha
Executive Producer :: David Ondrícek
Executive Producer :: Jennifer Monroe
Executive Producer :: Chris Curling
Cinematographer :: Sean Ellis
Film Editor :: Richard Mettler
Original Music :: Robin Foster
Production Design :: Morgan Kennedy
Supervising Art Direction :: Radek Hanák
Art Director :: Michal Šoun
Set Decoration :: Ussal Smithers
Costume Designer :: Josef Cechota
Casting :: Des Hamilton
Producer :: Sean Ellis

×
Also in Entertainment
Read More »
Kilian Melloy serves as EDGE Media Network's Associate Arts Editor and Staff Contributor. His professional memberships include the National Lesbian & Gay Journalists Association, the Boston Online Film Critics Association, The Gay and Lesbian Entertainment Critics Association, and the Boston Theater Critics Association's Elliot Norton Awards Committee.