The Infiltrator
'The Infiltrator'
I'd consider it negligent to not begin my review of "The Infiltrator" with a disclaimer, considering the film was screened at AMC Boston Common. The multiplex is among one of the cruddiest theatres on the east coast, a place where quality control seems to be a foreign concept.
On this specific occasion, "The Infiltrator" was shown to general audiences and press with the first 30 minutes projected incorrectly in the wrong aspect ratio. Not only did this look dreadful, but it cut off about 80 percent of the subtitles in a Spanish-speaking scene driven on plot set-up and tension, yet none of these elements were fully experienced due to the fiasco from an un-monitored projection booth.
Who knows what the characters were saying? (Aside from the Spanish-speaking attendees in the audience, of course.) For all I know, they could have been warning me of what was to come.
Even after this issue was resolved, it didn't make much of a difference for this floundering, flaccid attempt at dramatizing the true story of Robert Mazur, who, in 1986, went undercover to infiltrate the drug trafficking network of Columbian kingpin, Pablo Escobar. Riddled with narrative and visual clichés, "The Infilrator" trucks along at a gruelingly paced 127-minutes, only to arrive at familiarities and failures.
We have the career professional embodied in Mazur, played here by Bryan Cranston -- an actor who, regardless of material, always seems to employ an undeniably magnetic screen charisma. We have the pleading wife (Juliet Aubrey), who begs her husband for this to be his last job. We have the hard-ass boss (Amy Ryan), stereotypical sidekick (John Leguizamo) and bad guy archetypes up the wazoo.
When one scene begins, it's not difficult to figure out halfway through how it is going to end. Certain lines feel like they were written by a machine that had watched too many biopics and C-grade thrillers. "The Infiltrator" ultimately operates on elements opposite of suspense. The audience is left free-falling towards predictable nothingness.
And visually, my god... Brad Furman ("The Lincoln Lawyer") directs as if he's doing karaoke of David O. Russell doing karaoke of Martin Scorsese. Shots and sequences in the film feel so consistently and unnervingly uninspired that it all just blurs into one repetitious bore. Shot on the RED Epic Dragon, the digital photography adds an absurd amount of fake film grain to give it a "look" it doesn't deserve or even execute attractively. The grain is so excessive that you could classify it as high-fiber cinema, yet it gives "The Infiltrator" the appearance of what typically emerges from this type of diet.
Overall, a forgettable experience becomes memorable only in its pitfalls. The actors try in what could have been a riveting retelling of fascinating facts, yet it all spirals down at the mercy of unoriginal storytelling, both visually and in script (written by the director's mother, her first feature screenplay). It will entertain the easily distracted, irritate the cinematically in-tune and simply bore anyone else who remains. It infiltrates the mind only momentarily, but barely even cracks the cerebral surface. Great films can overcome projection fiascos, such as the one mentioned at the beginning of this review.
"The Infiltrator" is not one of these films.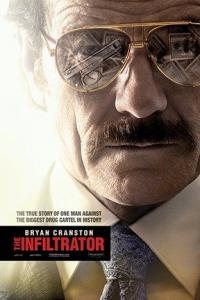 Info
Cast
Robert Mazur :: Bryan Cranston
Kathy Ertz :: Diane Kruger
Emir Abreu :: John Leguizamo
Bonni Tischler :: Amy Ryan
Mark Jackowski :: Jason Isaacs
Dominic :: Joseph Gilgun
Aunt Vicky :: Olympia Dukakis
Javier Ospina :: Yul Vazquez
Akbar Bilgrami :: Art Malik
Rudy Armbrecht :: Carsten Hayes
Roberto Alcaino :: Benjamin Bratt
Gloria Alcaino :: Elena Anaya

Crew
Director :: Brad Furman
Screenwriter :: Ellen Brown Furman
Producer :: Paul Brennan
Producer :: Brad Furman
Producer :: Miriam Segal
Producer :: Don Sikorski
Executive Producer :: Camela Galano
Executive Producer :: Kate Fasulo
Executive Producer :: Jill Morris
Executive Producer :: Peter Hampden
Executive Producer :: Scott LaStaiti
Executive Producer :: Robert Mazur
Executive Producer :: Norman Merry
Executive Producer :: Bryan Cranston
Cinematographer :: Joshua Reis
Film Editor :: David Rosenbloom
Film Editor :: Luis Carballar
Film Editor :: Jeff McEvoy
Original Music :: Chris Hajian
Production Design :: Crispian Sallis
Costume Designer :: Dinah Collin
Casting :: Deborah Aquila
Casting :: Tricia Wood

×
Related Story
Read More »