Touched With Fire
'Touched with Fire'
"Touched with Fire" was originally titled "Mania Days." The new title suits the film better, not least because it's also the title of a real book, by Kay Redfield Jamison, that the film uses as a touchstone -- and its lead characters refer to as their "Bible."
The religious implication isn't misplaced. Carla (Katie Holmes), a published poet, has a certain affinity for the sun; in a manic episode she can't even remember, she once went out into the desert and stared right into its blinding light with her unprotected eyes. Her fixation recurs time and again, in a variety of ways, suggesting Daedalus, dizzying flights of fancy, and dangerous heights from which to tumble and crash. That's what her life is like, after all: Carla is bipolar, and if her highs are huge, her lows are profound and crushing.
The same is true of Marco (Luke Kirby), who is also a poet, though more of the rapping spoken word sort. Marco's performance name is Luna; we first meet him by dark of night, as he plugs a lamp into a hallway power point in order to light a solitary lamp and illuminate his wildly disordered apartment. Disordered to his father's (Griffin Dunne) eyes, anyway; to Marco, his system of stacking his hundreds of books all over the floor makes perfect sense, and allows all sorts of serendipity to happen as his mind careens from thought to thought, spinning mad, improbably, and sometimes brilliant connections along the way. Unlike Carla -- who struggles against the disorder -- Marco embraces it, exalting in his manic flights and rejecting his medications in order not to feel dull and earthbound. He's Luna because he's a lunatic, the word having antiquated associations with the Moon, the phases of which were once thought to correspond with different sorts of mental disturbance.
Sun and Moon are destined to meet, of course, and when they do it's in a mental hospital. Their connection is intense -- so much so that it pushes both of them to a stratospheric level of mania. They lose their grip in reality all together, and build a space ship out of chairs and forks, hoping to be transported by moonlight to their true home, far away in the outer reaches of the cosmos.
Naturally, the powers that be separate them for their own good. But love has a way of finding a way; eventually, Carla and Marco find each other once again, and they begin a life together that see-saws between normalcy and frenzy, the mundane and the mad.
Carla's parents (Christine Lahti and Bruce Altman) are fearful for their daughter, and fearful of what might happen if she remains together with Marco. At one point, they attempt to stage an "intervention" that includes forcibly removing Marco from Carla's life. The pair react just the same as anyone sane would: They fight back, escape, and go on the run. They assert their right to make their own decisions, and live their own lives. The fact that they could harm themselves, each other, or the baby they are determined to conceive is nothing more than a hazy concept to them, but if we're honest, isn't the same true (if usually to a lesser degree) of anybody?
Time and again, the lovers seem destined to fly apart -- or else go down together in some sort of tragic mishap. The film wobbles along with their mood swings, and when Jamison, the author of "Touched With Fire," appears in a cameo things feel a little too weird and meta. Much more often, though, there's an intensity -- of joy, of sadness, of hope, or of despair -- that fits the characters' own extremes of mood. Holmes plays her character's crawl toward taking control over her disorder with dignity, interspersed with moments of panic and heartbreak.
Kirby manages to keep Marco sympathetic even when his actions are clearly reckless; his performance is full of tics and twitches that speak to simmering energy more than to voices in the head. Together, they portray a couple you want to hope for -- but who you fear will have to make a choice: Their relationship, or their lives. The somber, bittersweet truth the move delicately closes in on is that they probably can't have it both ways.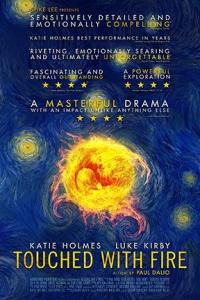 Info
Cast
Carla :: Katie Holmes
Marco :: Luke Kirby
Sara :: Christine Lahti
George :: Griffin Dunne
Donald :: Bruce Altman
Dr. Strinsky :: Maryann Urbano
Eddy :: Alex Manette
Dr. Lyon :: Daniel Gerroll
Nick Quadri :: Edward Gelbinovich

Crew
Director :: Paul Dalio
Screenwriter :: Paul Dalio
Producer :: Jeremy Alter
Producer :: Kristina Nikolova
Producer :: Jason Sokoloff
Executive Producer :: Spike Lee
Cinematographer :: Alexander Stanishev
Cinematographer :: Kristina Nikolova
Film Editor :: Paul Dalio
Film Editor :: Lee Percy
Original Music :: Paul Dalio
Production Design :: Kay Lee
Costume Designer :: Brenda Abbandandolo
Casting :: Avy Kaufman

×
Also in Entertainment
Read More »
Kilian Melloy serves as EDGE Media Network's Associate Arts Editor and Staff Contributor. His professional memberships include the National Lesbian & Gay Journalists Association, the Boston Online Film Critics Association, The Gay and Lesbian Entertainment Critics Association, and the Boston Theater Critics Association's Elliot Norton Awards Committee.