Gimme the Loot
Tashiana Washington and Ty Hickson star in 'Gimme the Loot' (Source:IFC Films)
Writer-director Adam Leon brings the edgy urban sensibilities of Spike Lee and the comic assurance of Woody Allen to a movie that trawls, with affect and leisure, through some of the rougher neighborhoods of a place all these filmmakers love: New York City.
"Gimme the Loot" kicks off with a 20-year-old clip from a (fictitious) cable access show in which graffiti artists talk about their failed attempt to "bomb," or tag, the Mets home run apple, an icon that appears whenever the Mets score a home run at their home field.
A skip, a jump, and a hip-hop to today: Two teenagers, tough and fearless Sophia (star-ready Tashiana Washington in a career-making turn) and sweet, trash-talking Malcolm (an equally talented Ty Hickson) are street artists who enter a slow burn after other taggers "buff" (tag over) their handiwork. Malcolm hatches a scheme to resurrect that age-old ambition to bomb the Mets apple, and he thinks he has a way to gain access. All he needs is $500 in bribe money. Then, he reasons, he and Sophia will gain not only impeccable street cred, but also worldwide fame.
If the reasoning is naïve, it's because Malcolm and Sophie, denizens of the streets that they are, have not yet shed their youth or gained their full allotment of street smarts. The two spend much of the movie on separate quests to raise the needed cash. Sophie strays from one situation to the next in which she's gypped, rooked, or ripped off; Malcolm, who works part time as a drug courier, takes a job that brings him to the flat of a bored bohemian girl named Ginnie (Zoë Lescaze) who seems ready to get it on with him one minute, only to shun and mock him later in the company of her equally bored friends.
Malcolm may be smitten, but he still plans to rob Ginnie, having gotten an eyeful of the pawnable treasures in her apartment. This quest leads, in turn, to fresh new frustrations -- a development paralleled by his ongoing interest in her as potential girlfriend material. (In a visually elegant, viscerally powerful scene, the two face off across a literal divide that stands in for the insurmountable socio-economic barrier that stands between them.)
Leon's script never attempts to teach these two kids a lesson or preach about the obstacles and lack of opportunity that limn their world. Instead, "Gimme the Loot" enters whole-heartedly into their larcenous universe, uncovering a luminous human spirit that never surrenders (and, if it's Sophie, never fails to lash out in turn with torrents of sharp, articulate invective). What seems at first to be a shallow comedy built on cliché turns instead into a wonderful ramble through the cinematically neglected sectors of a busy, richly diverse city.
This also feels like a post-racial movie. The main characters might be African American, but they interact freely and without evident rancor with whites. It's class that the movie riffs on, and Leon makes his points without having anyone climb up onto a soapbox.
Fresh, vital, and engaging, "Gimme the Loot" feels like one of those little movies that comes along from time to time to hit all sorts of nails on the head -- and get into the heads of its audience.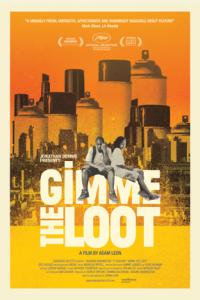 Info
×
Also in Entertainment
Read More »
Kilian Melloy serves as EDGE Media Network's Associate Arts Editor and Staff Contributor. His professional memberships include the National Lesbian & Gay Journalists Association, the Boston Online Film Critics Association, The Gay and Lesbian Entertainment Critics Association, and the Boston Theater Critics Association's Elliot Norton Awards Committee.