Columbus
"Architecture starts when you carefully put two bricks together. There it begins."
- Ludwig Mies van der Rohe
In "Columbus," the paths of our two protagonists first cross outside of a hospital. Casey (Haley Lu Richarson) is sitting on the hood of her car, examined in a slow-burning static shot as she shifts between watching the world around her and getting lost in her own thoughts. Her eyes eventually land on Jin (John Cho) as he emerges from a taxi, removes a suitcase from the trunk and navigates his way into the hospital. Casey is outside waiting for her mother to get off from a night cleaning gig, while Jin is heading inside to see his stable, yet comatose, father.
The setting is Columbus, Indiana -- an area known for its remarkable architecture and not much else. It's a land in which Casey grew up and feels indebted to, particularly because her mother (who has gone through her own share of struggles) is doing quite well for herself and Casey remains, living together with her mother, in order to maintain this stability. Jin, on the other hand, is grappling with the push and pull of Korean tradition versus his own personal sentiments towards his dying father. "It doesn't seem fair," he says at one point. "He never put his life on hold for me."
"Columbus," ultimately, is a beautiful film about two people who enter into one another's lives and, as a result, make them better. When Casey and Jin first converse, they are framed in a striking tracking shot where they walk alongside a metal fence which separates them, until their own barriers are broken down through conversation and the physical fence between them ends. The friendship evolves, as Casey and Jin navigate through the aesthetic offerings of Columbus and exchange bookish, nerdy dialogues about architectural history, philosophy and design. Conversations eventually shift towards topics more serious -- why Casey is so scared to leave her mother behind, despite an amazing offer to attend architectural school, and why Jin is so guarded in his relationship with his father, even though it seems like, deep down, he's aching to reconnect with a comatose man he hasn't talked to in a year and may never have a real conversation with again.
"Columbus" certainly zeroes in on the architecture of its landscapes, with debut director Kogonada framing these structures with impeccable precision and gorgeous composition. But deep down, the film is far more interested in the architecture of our own souls -- the dreams, passions, fears and knowledge that make up the building blocks of our internal design. It's about feeling overwhelmingly stuck in one place, while also being comfortable enough that you're scared to death of what taking the next steps may lead you to.
These qualities make Casey a compelling character to watch, and actress Haley Lu Richardson ("The Edge of Seventeen," "Split") is an absolute revelation, a word often overused when describing performances but that feels incredibly appropriate when discussing the magnificent waves of feeling and nuances that Richardson brings to her on-screen presence. Two of her strongest moments in the film are shot through glass, silent, and made up of pure emotion. She's a true star, and I doubt I'll see a better leading performance this year.
Performances are strong throughout the ensemble as well. Cho is remarkable, and Parker Posey is great as a family friend who Jin has known since childhood. Rory Culkin is a grand combination of masked pathos and comic relief as Casey's friend and co-worker at the library (watch for him in the background of a scene where Casey endures an awkward conversation with a girl she went to high school with).
"Columbus" is one of the year's best films, a rare gem that deserves to be sought out in what will likely be a limited marketplace for theatrical distribution. But if you can see the film on the big screen, I'd strongly advise you to do so. It's a piece of cinema worth getting lost in. First, you're caught up in the beauty of the architecture, affectionately framed by Kogonada. Then, without warning, you're swept up in something else, something far more powerful.
Two bricks. That's all it takes. There it begins.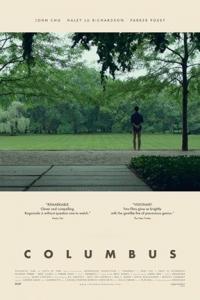 Info
×
Also in Entertainment
Read More »