A Quiet Passion
Cynthia Nixon and Jennifer Ehle star in 'A Quiet Passion'
Writer-director Terence Davies undertakes this bristly, sardonic, and -- sometimes -- merrily glinting biopic about Emily Dickinson. "A Quiet Passion" is indeed quiet, in many respects -- visually, as well as audibly -- but there are volcanic fevers beneath its visually inventive surface, its long takes, and its frequent immersion into darkness and natural lighting. If there's anyone who can make a parlor drama sizzle, it's Davies, the man who directed 2000's "House of Mirth." (He also directed 2015's adaptation of the Gibbon novel "Sunset Song," and did it with a sort of to-the-bone mastery and lack of hesitation that one might find alarming in any other genre.)
The major beats -- or stanzas -- of the poet's life are set out here; the way in which she both dreaded death and seemed almost to look forward to it as a means of escaping anxiety, melancholia, and dissatisfaction provides the film a major theme (as it did her work), but Davies is careful to start with the idea that Dickinson had the kind of spirituality that refuses to be crushed into a mold or rendered into a dogmatic carbon copy. When we first meet Emily, as played by Emma Bell, she's scandalizing an instructor at a "Female Seminary" (later to become Mount Holyoke College). Fiercely protective of both her soul and her honesty, Emily won't budge when she's hectored by the instructor, who calls her "a no-hoper."
Davies uses the device of a slow push-in combined with a fade to morph his younger actors into their older counterparts; in this way Emily's brother Austin transform from Benjamin Wainwright to Duncan Duff, while the actress playing her sister Vinnie, Rose Williams, seamlessly matures into Jennifer Ehle. Emily herself transforms, with Cynthia Nixon now playing the part. Severe in style and with a feverish glow in the eyes, Dickinson is now spinsterish, lonely, and increasingly erratic. She may have no use for religion, but spirituality (and a dose of poetic flair for drama) clings to her like a flame.
But Dickinson's sweeping spirituality proves to have a jaunty and even irreligious side, as well, and when she meets a saucy, clever young woman named Vryling Buffam (Catherine Bailey) the two become fast friends. How could they not, when Ms. Buffam's own skepticism of church-going kinds of faith so paralleled Dickinson's own? "Going to church is like going to Boston," Buffam says at one point, just after they've first gotten acquainted. "You only enjoy it once you get home."
Dickinson herself, of course, had a way with words. Verbally sparring with Reverend Wadsworth (Eric Loren), who is both handsome and marvelously well-spoken -- and to whom she's attracted -- Dickinson manages both to hint at her own thirst for fame -- or at least respect and equality -- and to slip in a dig at religion, saying that though she's not famous in her own lifetime, she might yet hope for fame after her death. "But posterity is as comfortless as God," she adds.
"That sounds like despair," Wadsworth notes.
"No, it's bitterness," Dickinson rejoins, surgically precise with words as ever. It's her emotions that get sloppy, and her relations with others follows suit; eventually she's wearing only white and refusing to speak to visitors face to face. When others stray into mortal pitfalls, she skewers them, but is it from moral outrage or a bone-deep, stone-hard refusal to give over to the ways in which society talks down to women and circumscribes their lives?
At any rate, Dickinson seems to prefer the company of women. Her friends marry, her elder relations die, but sister Vinnie remains stalwart in her life, and both loves and castigates her. Sometimes it seems that only Vinnie's ministrations serve as the twine that keeps Dickinson's spirit and body together; men certainly are not going to do it, especially when Dickinson takes to sharpening her most cutting turns of phrase with an eye to deploying them on suitors.
Davies seems to determined to make a film that's as prickly and as smart as its main character. Sometimes it succeeds to well at the former, and takes on a remote and even fey feeling; as the years pass, with Dickinson's own poetry serving as a narration, there's a sense of a willful self-denial that allows the flesh to wither while the spirit ferments. The Civil War comes and goes -- accompanied by cost-saving and evocative use of colorized photos from the era -- but the war that rages in the poet herself never comes to a point of resolution. Perhaps that's the sort of inner turmoil that's needed to compress the raw materials of thought, experience, emotion, and wisdom into words hard and scintillating as those in Dickinson's spare, and unsparing, lines of verse.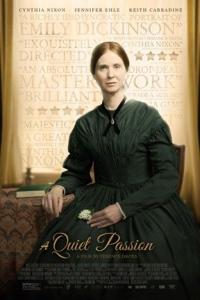 Info
×
Related Story
Read More »
Kilian Melloy serves as EDGE Media Network's Associate Arts Editor and Staff Contributor. His professional memberships include the National Lesbian & Gay Journalists Association, the Boston Online Film Critics Association, The Gay and Lesbian Entertainment Critics Association, and the Boston Theater Critics Association's Elliot Norton Awards Committee.