La La Land
Emma Stone and Ryan Gosling star in 'La La Land'
"Here's to the ones who dream,
Foolish as they may seem.
Here's to the hearts that ache,
Here's to the mess we make."
With his third feature, writer-director Damien Chazelle ("Whiplash," "Guy and Madeline on a Park Bench") bewitches and enthralls viewers with an homage to the Hollywood musical and French New Wave cinema funneled through a young filmmaker's highly inventive, and paradoxically modern, take on the rom-com, via directorial influences that span decades.
"La La Land" is already amassing awards, even before its official release, and with good reason. It's impossible to not be swept away by this enchanting fable, and Chazelle's buoyant and bountiful love for the film medium shines ever bright.
The first screening I attended was literally two days after the presidential election. To say I was awash in an impenetrable wave of bleakness and despair (along with so many others) is an understatement. I didn't expect anything could pull me out of this profound depression or wipe the dark and grim from my mind. The magic of "La La Land" was that it did, indeed, transport me out of this newly horrific reality into a world where people still seemed to care about one another and pursue true passions beyond the monetary -- a place where hope mattered. The bittersweet truth is that that joy only lasted for a little over two hours, but I was tremendously grateful for the respite.
Even without the context, this gem is hands down the most ebullient, rapturous and lovely film of the year. And by the time Emma Stone sings the deeply affecting and transcendent, "Audition," the film had such a hold on me that I fell completely head over heels. And the brilliantly enigmatic finale is perfection and elevates an exceedingly good film to levels of the extraordinary. (See how the superlatives fly when every element of a movie miraculously meshes and it also fulfills a cultural need?)
"La La Land" is set in contemporary Los Angeles, but these characters are retrogressions. They have 1960s psychological complexity, Woody Allen woes as well as millennial angst. One of the surprising and delightful aspects of the pic is just how effectively Chazelle manages to work that trifecta. Throwback evolves emotionally and intellectually into toss-forward right before our eyes.
Mia (Emma Stone) is a struggling actress who works in a quite-cool coffee shop on the Warner Brothers lot and pounds the audition pavement in hopes of landing a decent gig. Sebastian (Ryan Gosling) is a jazz enthusiast piano player who dreams of owning his own club.
The two meet in the film's dazzling and infectious opening, a traffic jammed freeway sequence where frustrated commuters vacate their vehicles and burst into song and dance ("Another Day of Sun," choreographed by the insanely gifted Mandy Moore). It is not love at first sight; quite the opposite. But, eventually, our destined pair fall pretty head over tap heels for one another as they both embark on that cumbersome road towards fulfilling their respective ambitions.
She learns to not hate jazz and discovers her talents may lie elsewhere in the arts. He apprehensively joins a poppy jazz band and finds that he enjoys the fame it brings, despite the artistic compromises he makes. As the seasons pass (the framing device), their love grows (they literally float in the air in one amazing scene) and, then, metamorphoses.
Chazelle borrows masterfully from many decades of musicals (the MGM Gene Kelly/Fred Astaire flicks, most obviously), not to mention Robert Altman ("The Player," specifically) and David Lynch ("Mulholland Drive," crypitcally), to name but a few auteurs. Okay, here's a few more!
Nicholas Ray's seminal "Rebel Without a Cause" plays a fascinating role in "La La Land" and the "Casablanca" influence is also quite strong. Mia works directly across the street from where a scene from the Michael Curtiz classic was filmed and Ingrid Bergman looms large on Mia's wall and elsewhere. (Incidentally, another current film lovingly evokes "Casablanca," the Brad Pitt-Marion Cotillard thriller, "Allied.")
And Chazelle's love letter filmmaking to the city of angels is quite akin to Woody Allen's adoration-led vision of New York.
Chazelle's appropriation blends itself into something quite honest and vital, but also, jubilant. He knows to keeps things messy and raw when needs be, but also when to dial up the majesty.
Stone should have won the Oscar for "Birdman" (but lost to an actress who finally didn't suck in a film instead) so it's no surprise she is capable of being this luminous and beguiling. But it's the levels of nuance she displays that stunned me most -- that, and the incredible character evolution woven into her performance. Stone has the beauty, grit and chops of Grace Kelly, Lauren Bacall and Audrey Hepburn. In a year with so many worthy female turns, she is among the best.
Gosling's no slouch infusing Seb with just the right amount of angst, dissatisfaction and self-doubt. Seb's hopes and desires morph with newly found success, as so often happens in life, and Gosling's approach is painfully authentic.
Neither leads are the perfect song and dance couple that Astaire and Rogers or Kelly and Garland were, but that's part of the film's overall messiness. These are two passionate dreamers whose desire propels them towards achievement.
The film smartly focuses its energies on Stone and Gosling but I can't help but feel that the fantastic Rosemarie DeWitt, so awesome in such a tiny role, deserved more.
Cinematographer Linus Sandgren gorgeously captures Tinseltown in all it's "Singin' in the Rain" splendor as well as it's "Day of the Locust" darkside. And all other tech credits are stupendous.
Composer Justin Hurwitz and lyricists Benj Pasek & Justin Paul (currently represented by "Dear Evan Hansen" on Broadway) have written a terrific score with "Audition" representing their the crowning achievement (the song is well on its way to becoming a classic -- and winning an Oscar.)
"La La Land" is about the choices we make and the people we hurt as we set out to fulfill our destinies and how that journey is wracked with pain, guilt, heartache, insecurity and a touch of vanity -- but moments of great glee and elation as well. The film urges that we don't give up on the things we truly believe in. It also invites the viewer to look back on his/her own journeys and ponder who helped us along that journey and what truly matters in our lives. In today's scary America, these themes resonate more than ever.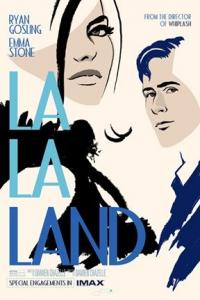 Info
×
Related Story
Read More »
Frank J. Avella is a film and theatre journalist and is thrilled to be writing for EDGE. He also contributes to Awards Daily and is the GALECA East Coast Rep. Frank is a recipient of a 2019 International Writers Retreat Residency at Arte Studio Ginestrelle (Assisi, Italy), a 2018 Bogliasco Foundation Fellowship, a 2016 Helene Wurlitzer Residency Grant and a 2015 NJ State Arts Council Fellowship Award. He is an award-winning screenwriter and playwright (CONSENT, LURED, SCREW THE COW, FIG JAM, VATICAN FALLS) and a proud member of the Dramatists Guild.
https://filmfreeway.com/FrankAvella
https://muckrack.com/fjaklute