The Last Word
Shirley MacLaine stars in 'The Last Word'
Director Mark Pellington ("The Motorman Prophecies," "Henry Poole Is Here") delivers "The Last Word," a Shirley MacLaine vehicle so made to order and factory assembled it practically arrives with a whiff of that new car smell.
A couple of things save "The Last Word" from utter mediocrity. First, Shirley MacLaine fearlessly -- and whole-heartedly -- throws herself into the role of Harriet, a woman in her early 80s who has run out of things to do and come so depressed and bored that she attempts suicide, landing in the hospital and having to go through a friendly little chat with a doctor that most mortals would find humiliating. Since Harriet is incapable of humiliation, however, the whole thing simply gets on her nerves; you can tell she's planning a more effective strategy for her next try.
Before she can managed it, though, an obituary in the local paper catches her eye. She's so taken with the writing that she surveys the paper for other examples, and soon she's assembled a small library of obits all penned Anne (Amanda Seyfried), a talented word-smith in a (literally) dead-end job. Deciding she wants her own obit to be a masterpiece, Harriet -- in a move suited to her status as the world's biggest control freak -- promises the paper a large bequest, hires Anne to be her personal obituary writer, and then commences to oversee the project in her bristly, inimitable way.
This opens the door to the movie's second redeeming grace: A sporadic, but occasionally quite effective, sense of humor. Some of the jokes are contrived, but funny all the same, as when the camera edges down while one of Anne's interviewees talks about his fierce hatred for Harriet; even as he says the words, the panning camera reveals that he's wearing priest's collar. Later, having determined that she needs to "touch the life" of someone less fortunate than herself, Harriet identifies Brenda (AnnJewel Lee Dixon), a sassy nine-year-old habitué of a local community center. Let's just say that Brenda is freakin' awesome, and once she joins up with Anne and Harriet the movie is proved for some prime girls-only fun.
There are plenty of de rigger narrative bells and whistles, including Anne's own troubled history with her mother, Harriet's estrangement from her daughter (Anne Heche), and a handsome swain for Anne in the person of Robin Sands (Thomas Sadoski) -- a character who, together with his subplot, feels a little tacky and very much tacked on, along with Harriet's frankly less than convincing new career -- adopted on a whim -- as a morning disc jockey.
Stale as the ingredients are, the film offers just enough tart freshness to be enjoyable. This might just be the n'est plus ultra of chick flicks, given the advanced age of its main character, but that in itself is a selling point: After all, life is long and sometimes surprising, and it's not over until it's over. MacLaine is in fine form here, and she's reason enough to check this film out.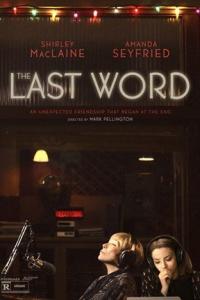 Info
×
Related Story
Read More »
Kilian Melloy serves as EDGE Media Network's Associate Arts Editor and Staff Contributor. His professional memberships include the National Lesbian & Gay Journalists Association, the Boston Online Film Critics Association, The Gay and Lesbian Entertainment Critics Association, and the Boston Theater Critics Association's Elliot Norton Awards Committee.