Absolutely Fabulous: The Movie
'Absolutely Fabulous' (Source:Fox Searchlight Pictures)
Fabs of the classic '90s Britcom "Absolutely Fabulous" rejoiced when the show's initial three seasons were followed, in 2001, by a fourth and then a fifth season, along with several specials. In 2011, a finally flurry of three episodes closed out the show's television run.
Now fans can rejoice again thanks to "Absolutely Fabulous: The Movie," which follows the "Ab Fab" formula to a T. All of the central characters are back, with series writer Jennifer Saunders reprising the role of needy, clueless Edina Monsoon, a high-living PR agent, with Joanne Lumley at her side as the rail-thin, cocaine-snorting, booze-swilling fashion editor Patsy Stone. Julia Sawalha returns as Edina's daughter Saffron; June Whitfield takes on a rather substantial part as Edina's mother; and Jane Horrocks reprises her role as the cartoon-voiced and aptly named secretary, Bubble.
The television series used to go in for wry, dry humor that poked at everything from fashion to technology. "Absolutely Fabulous" also dealt in outrageous storylines, un-PC punchlines, and stunt casting. All those elements carry over here, as well, with the jokes swerving between tartly understated and limply wan, and cameos abounding by everyone from Jon Hamm, Kate Moss, and Dame Edna to Chis Colfer, Stella McCartney, and Joan Collins.
Pop singer Lulu has a role, too, as Edina's single remaining client. Screwed over once too often by her ineffectual publicist, Lulu pounces on an opportunity to make Edina pay for her many sins of omission after a high society imbroglio leaves Edina (and Patsy, by extension) a pariah. (Not that Edina knows what the word means.) In a bid to leave the whole mess behind and start afresh, Patsy and Edina scarper off to Cannes, where Patsy plans to reconnect with an old flame -- a rich and sleazy porn producer ("Dame Edna" comedian Barry Humphries) -- and milk him for cash. Along for the ride is Saffron's 13-year-old daughter Lola (Indeyarna Donaldson-Holness), and for a while one hopes that Lola might have inherited her grandmother's talents for self-absorption and chaos.
The film echoes the TV version on a larger and more lavish scale -- look! Edina's kitchen leads out into a garden! -- but it all comes back to the characters. Saffron and Patsy still don't get along, and current trends have a way of lingering just beyond Edina and Patsy's reach; the pair struggle with an online dating app in a quick throwaway gag, and when Saffron upbraids Patsy for smoking indoors, Patsy fires back with, "I'm vaping!"
She's not, of course, and that's the point. The world at large has long since moved on, but Edina and Patsy are still drifting in some sort of post-60s haze. The put-upon Saffron, meanwhile, is often the only adult in the room... though this time around she does have some help in the form of her boyfriend, a police inspector called Nick (Robert Webb). Though the storyline meanders through some not-so-zany twists and turns, playing fast and loose with plausibility every step of the way, a platitude-worthy resolution emerges -- only to be scuffed and twisted. (Not to give anything away, but the ending is something of a missed opportunity: What could have been a brilliant riff on "Some Like It Hot" turns instead to a lukewarm laugh line.)
Fans will be pleased to see the formula remain intact, and it's an open question as to whether many will notice how the source material fails to fill the big screen. Those who do notice might wonder why the laughs don't come as hard; it's simply because "Ab Fab" is a small-screen property and it doesn't demonstrate the chops to go feature-length cinematic.
Near the end of the 85-minute running time the plot manages to get everyone reunited in the sunny South of France -- at a lavish swimming pool, no less. Ironically, though, by that point the film has all but run dry -- though an extended sequence with Patsy in drag calls back to the series' hints at a transgender, or at least transvestite, past. There's something to be said for subtlety, but then again, there's also a certain virtue in giving your best jokes place of pride. The writing here is so busy that the gems get lost in the shuffle, and you start to worry that the real juice has seeped out between the lines, leaving the movie over-decorated and parched. More Bolly, sweetie darling, and make it quick!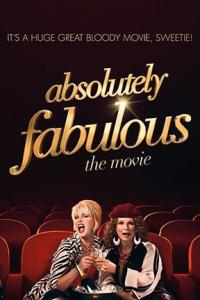 Info
Cast
Edina Monsoon :: Jennifer Saunders
Patsy Stone :: Joanna Lumley
Saffron :: Julia Sawalha
Lola :: Indeyarna Donaldson-Holness
Bubble :: Jane Horrocks
Mother :: June Whitfield
Chris :: Chris Colfer
Claudia Bing :: Celia Imrie
Magda :: Kathy Burke
Flight Attendant :: Rebel Wilson
Herself :: Kate Moss
Dame Edna Everage :: Barry Humphries
Himself :: Jon Hamm
Himself :: Jean-Paul Gaultier

Crew
Director :: Mandie Fletcher
Screenwriter :: Jennifer Saunders
Producer :: Damian Jones
Producer :: Jon Plowman
Executive Producer :: Maureen Vincent
Executive Producer :: Jennifer Saunders
Executive Producer :: Dawn French
Executive Producer :: Christine Langan
Executive Producer :: Nichola Martin
Executive Producer :: Steve Milne
Executive Producer :: Christian Eisenbeiss
Cinematographer :: Chris Goodger
Film Editor :: Anthony Boys
Film Editor :: Gavin Buckley
Film Editor :: Billy Sneddon
Original Music :: Jake Monaco
Production Design :: Harry Banks
Art Director :: Nikki Startup
Art Director :: Frédéric Bergé
Set Decoration :: Laura Richardson
Costume Designer :: Rebecca Hale
Casting :: Alex Johnson

×
Related Story
Read More »
Kilian Melloy serves as EDGE Media Network's Associate Arts Editor and Staff Contributor. His professional memberships include the National Lesbian & Gay Journalists Association, the Boston Online Film Critics Association, The Gay and Lesbian Entertainment Critics Association, and the Boston Theater Critics Association's Elliot Norton Awards Committee.