Top Story
Police in Serbia briefly clashed with far-right supporters who tried to prevent a gay pride parade attended by the country's openly gay prime minister on Sunday.
A beautiful day and the biggest crowd in history made this year's Boston Pride Parade and Festival one of the biggest events this year in the city.
Boston Pride continued on Sunday with the annual Block Party in the Back Bay. It was a beautiful afternoon to hang out, dance and celebrate Pride. See who was there.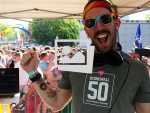 The line stretched down a block to get into the Chandler Street Block Party after the Boston Pride Parade. Check out these great photos.
Gay Pride Around the World