Ariana Grande: I'm Not Exploiting the LGBTQ Community by Performing at Manchester Pride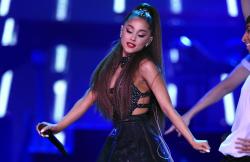 Ariana Grande is reaching out to her LGBTQ fans, saying she's not exploiting the community after it was announced she is headlining Pride Festival in Manchester, England later this year.
Some fans were upset that after it was announced she'd be performing at the event ticket prices increased. Gay Star News reported in January that tickets more than doubled from £30 to £70.
One tweet complaining about the increase went viral this week, earning over 76,500 likes, and got the attention of Grande, who responded.
"Idk... Ariana headlining pride when she's straight (as far as we're all aware) .... and doubling the price of tickets .... kinda smells like exploitation of the LGBT community to me," the tweet reads.
Grande said she "wanted to chime in" and shared a screenshot of the notes app for her apology.
"I have nothing to do with ticket pricing," she wrote. "Manchester Pride sets those rates and they're mostly out of my control. The LGBTQ community has been so special to me and supportive throughout my entire career.
"The relationships I have with my LGBTQ fans, friends and family make me so happy," the "Thank U Next" singer continued. "I want to celebrate and support this community, regardless of my identity or how people label me.
"And also I wanna visit a city that means so much to me," Grande went on to say, referencing the Manchester Arena bombing. "LGBTQ representation is incredibly important, and I'm always proud to share the stage with LGBTQ artists! Over the years, Pride events have been headlined by performers and artists of all sexual orientations and genders, including straight allies like Cher and Kylie Minogue."
"I do think there's room for us to talk about these issues without equating a performance *for* an LGBTQ audience with an exploration of the LGBTQ community," Grande wrote. "If you truly feel like I don't deserve to be offered this spot, I respect that. I'm not claiming to be the hero of the community or the face of the LGBTQ rights movement — I just wanna put on a show that makes my LGBTQ fans feel special and celebrated and supported. That's all I wanna do."
Grande's tweet earned over 56,600 likes.
During her performances in Manchester in 2017, a suicide bombing killed 23 people, including the attacker, and wounded 139 other people.
Manchester Pride is held from August 23-26.
Check out Grande's response below.
Comments on Facebook