Conservative lightning rod Roy Moore of Alabama, narrow loser of a turbulent special election for Senate in 2017, is considering a fresh run next year.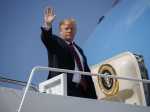 President Donald Trump says he hopes the U.S. is not on a path to war with Iran amid fears that his two most hawkish advisers could be angling for such a conflict with the Islamic Republic.
President Donald Trump says he thinks "some people" may have an issue with 2020 Democratic rival Pete Buttigieg's (BOO'-tuh-juhjehz) same-sex marriage, but he thinks "it's great."
He's deeply unpopular among fellow New Yorkers, often savaged by the city's tabloids and fights with the media that cover him. He also believes he can be elected president in 2020. That's Donald Trump. And that's Bill de Blasio.
New York City Mayor Bill de Blasio announced Thursday that he will seek the Democratic nomination for president, adding his name to an already long list of candidates itching for a chance to take on Donald Trump.
Democrat Elizabeth Warren is saying no to a televised town hall on Fox News, slamming the network as "a hate-for-profit racket that gives a megaphone to racists and conspiracists."
As Trump heads into a turbulent re-election campaign, historians and observers are wondering just how far the president might be willing to go in using the levers of presidential power
Congresswomen with military service in their past, some of them forged on post-Sept. 11 wars, are hoping to create their own caucus.
Kamala Harris wants to ban the importation of AR-15-style assault weapons by executive action if elected president.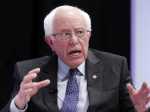 In his nearly three weeks as a presidential candidate , Biden has become Sanders' favorite foil.