CNN will air a 4-and-a-half hour long town hall on LGBTQ issues, hosted by the Human Rights Coalition on October 10. The event, titled "Power of Our Pride," will not feature Sen. Bernie Sanders or entrepreneur Andrew Yang.
President Donald Trump is dismissing as fake news and "presidential harassment" a report that he made an unspecified promise during a phone call to a foreign leader that led to a whistleblower complaint.
A top NASA manager cast doubt Wednesday on the space agency's ability to land astronauts on the moon by 2024.
One California lawmaker is already working on a way to preserve at least some of the state's environmental muscle: Rebates for electric cars.
President Donald Trump threatened to unleash the Environmental Protection Agency on San Francisco Wednesday after a California visit during which he blamed the homelessness crisis on "liberal" policies.
Droves of former practitioners and proponents have stepped away from so-called "conversion therapy." Now, more are speaking out against the harms it inflicts - including John Smid, formerly associated with Love in Action.
A black Congress member said it "incomprehensible" that after the overdose deaths of two African American men at the apartment of L.A. area gay activist Edward Buck, a third man nearly died there before authorities arrested Buck.
Comedian Sacha Baron Cohen asked a federal judge to dismiss Roy Moore's defamation lawsuit over a television segment that lampooned Moore in the wake of sexual misconduct allegations.
Actress Afton Williamson's claims of misconduct against her on the set of "The Rookie" weren't substantiated by an independent investigator, according to the ABC drama series' producer.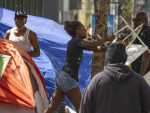 President Donald Trump began a California visit on Tuesday, saying he will do "something" about homelessness but offering no specifics beyond the mention of creating a task force.