1 thru 10 of 28917 Stories
A commissioner in Sevier County, Tenn. is making headlines this week for controversial comments he made Monday that caused quite a reaction.
A federal judge on Tuesday refused to dismiss Chicago's lawsuit against former "Empire" actor Jussie Smollett.
Former President Jimmy Carter had another fall at his home in Plains, Georgia, fracturing his pelvis and going to the hospital for treatment and observation, a spokeswoman said Tuesday.
President Donald Trump injected racial overtones into the House impeachment inquiry Tuesday by comparing the Democratic-led investigation into his handling of U.S. policy toward Ukraine to a "lynching."
Florida dramatic arts teacher Monica Toro-Lisciandro says that the taxpayer-funded private Christian school where she taught a class fired her after school officials received a tip from an unknown caller that she is a lesbian.
A man from the Hudson Valley region of New York is suing a gay porn company for selling his private information.
What do you call a delicious combination of all different shapes, sizes, colors, and types? - Aside from pre-Trump America, that is? How about this: "All Together Now."
For Mick Mulvaney, the hits just keep on coming.
As an architect, Thomas Jefferson envisioned buildings for a new republic — not old-world kings. The domes and columns in his designs recalled ancient Greece and Rome to symbolize liberty and democracy.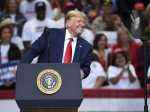 As President Donald Trump describes it, the U.S. swooped into an intractable situation in the Middle East, achieved an agreement within hours that had eluded the world for years and delivered a "great day for civilization." Not everyone bought it.
1 thru 10 of 28917 Stories