1 thru 10 of 28053 Stories
In the wake of several staffers suing the California Democratic Party and its former chairman, Eric Bauman, 60, over claims of sexual misconduct, a new suit has emerged in which a 28-year-old employee of the party says he, too, was abused.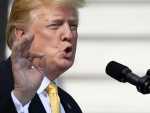 The nation's largest gun rights organization played a pivotal role in President Donald Trump's victory in 2016.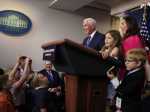 White House press secretary Sarah Sanders held her first briefing in more than a month Thursday, but the questions didn't come from working journalists.
In recent months, fast-food chain Chick-fil-A has been trying to fend off the perception of being anti-LGBTQ. But for Montana's AG - and gubernatorial candidate - Tim Fox, that's all the more reason to invite the company in.
A controversial proposal to increase housing near transportation and job hubs faces a key test Wednesday as California lawmakers search for solutions to the state's housing affordability crisis.
The owner of a Kentucky barbeque food truck got more heat than he bargained for when he began selling T-shirts with the message "I support LGBTQ: Liberty, Guns, Bible, Trump, BBQ."
Just say no.
Opinions differ over how much progress has been made, but it's clear for true inclusion to occur there needs to be more support within the queer community for its Deaf members.
President Donald Trump's prison-bound former lawyer told actor Tom Arnold last month that he pleaded guilty to some crimes he didn't commit so his wife wouldn't "get dragged into the mud of this crap."
President Donald Trump said Wednesday he'll go directly to the U.S. Supreme Court "if the partisan Dems" ever try to impeach him.
1 thru 10 of 28053 Stories