1 thru 10 of 5493 Stories
Extortion, physical assaults, verbal abuse, denial of state services, forceful evictions, harassment, being disowned by family members. These and many other challenges may begin to fade away for the Kenyan gay community if a court rules in their favor.
President Donald Trump was asked Wednesday about the United States' effort to decriminalize homosexuality around the globe but his response was confounding.
A new focus on cold-weather military training trains U.S. troops to fight against a more capable, high-tech enemy like Russia, North Korea or China.
The office of Serbia's openly gay Prime Minister Ana Brnabic says her partner has given birth to a baby boy.
An index of investor confidence in Germany has improved slightly but remains well below its long-term average amid ongoing signs of weakness in Europe's largest economy.
Senior White House officials pushed a project to share nuclear power technology with Saudi Arabia despite the objections of ethics and national security officials, according to a new congressional report.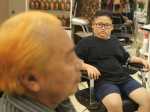 At a barbershop tucked away in a small Hanoi alley, Le Phuc Hai patiently waits for his hair dye to bleach his natural black into the color of the president of the United States.
Marches and rallies against anti-Semitism are taking place across France following a series of anti-Semitic acts that shocked the country.
A French judge refused Monday to block the release this week in French cinemas of a movie based on a Catholic sex scandal.
British lawmakers issued a scathing report Monday that calls for tougher rules on Facebook to keep it from acting like "digital gangsters" and intentionally violating data privacy and competition laws.
1 thru 10 of 5493 Stories