Gay Boston: The Latest
Boston, MA
The Provincetown International Film Festival (PIFF) has announced "Provincetown Reimagined," presented by WarnerMedia, a modified festival with drive-in and virtual screenings running July 16-19, 2020.
The number of confirmed coronavirus cases in the U.S. climbed to an all-time high of more than 50,000 per day on Thursday, with the infection curve rising in 40 out of 50 states in a reversal that has largely spared only the Northeast.
An accident requiring two screws in his ankle nearly prevented Scott Eastwood from portraying a real life soldier in Afghanistan in "The Outpost" — a role that required a level of athleticism.
Lea Michele made her first public appearance in weeks this week, then was slammed by another former colleague, fitness guru Craig Ramsay, who called her "a despicable, horrible human being."
The Supreme Court is denying Congress access to secret grand jury testimony from special counsel Robert Mueller's Russia investigation through the November election.
British socialite Ghislaine Maxwell was arrested by the FBI on Thursday on charges she helped procure underage sex partners for financier Jeffrey Epstein.
White House counselor Kellyanne Conway's teen daughter is going viral on the social media video app TikTok for directly opposing her mother's boss: President Donald Trump.
David P. Wichman isn't your garden variety escort. In his memoir, he talks about "healing" for himself and others, and having a "calling" to do what he does. Wichman explains it all to EDGE.
A gay employee at a Miami Beach restaurant was threatened and brutally assaulted in what police are calling an "anti-gay battery" - and then, adding injury to injury, reportedly found himself fired from his job.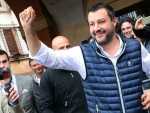 Far-right Italian politician Matteo Salvini responded to government deliberations on a bill against homo- and transphobia by suggesting a measure to counter "heterophobia." Twitter went wild with mockery.
ABC News reporter James Longman announced last week that he is engaged.
President Donald Trump has fabricated a complaint that Democratic rival Joe Biden was fed questions at a news conference and read his answers from a teleprompter. This didn't happen.
The United States Conference of Mayors adopted a resolution urging Congress to provide long-term arts and culture relief funding in the wake of the COVID-19 pandemic.
The Los Angeles City Council on Wednesday approved a makeover of its widely criticized marijuana licensing program to enlist more operators who endured the consequences of the nation's war on drugs.
Kansas' top public health official predicted Wednesday that the state will face steeper increases in coronavirus cases and suggested that it blew its chance for a summer respite from the pandemic.

Some newly unemployed people are taking advantage of special enrollment periods to sign up for plans offered on the Affordable Care Act's insurance marketplaces, while others find they qualify for Medicaid.
Edmunds experts have made some forward-thinking recommendations on five SUVs that offer roomy cargo areas and high fuel economy.

Mixologist Anders Erickson offers five easy-to-make summer cocktails that only require three ingredients each.
"What we have seen is this persistent group of women who continue to get cervical cancer every year," said Vikrant Sahasrabuddhe, who oversees studies involving HPV-related cancers. "And that number is really not going down."
The first visitors to arrive in Puerto Vallarta since the reopening of its hotels and beaches last week found a destination engrossed in health and safety protocols to meet the realities of a world of COVID-19.
"Anytime we get together as a community, it allows us to celebrate ourselves in safety with others," says DJ Nina Flowers. "I believe that space is still needed."