Gay Boston: The Latest
Pope Francis urged Iraq's Christians on Sunday to forgive the injustices committed against them by Muslim extremists and to rebuild as he visited the wrecked shells of churches and met ecstatic crowds.
President Biden plans to sign an executive order directing federal agencies to promote voting access as congressional Democrats press for a sweeping voting bill to counter efforts to restrict voting access.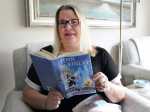 For those who find their dreams in books, there's a group of readers who are hungrily consuming a particular style of narrative to escape from the past year's reality: "Cozy" mysteries.
Carnival is usually the highlight of the year for Cyprus, when residents let loose in bizarre and colorful costumes, joyfully dancing and celebrating during the Mediterranean island nation's biggest annual party scene.
The Recording Academy is partnering with Berklee College of Music and Arizona State University to complete a study focused on women's representation in the music industry.
For the mainstage runway, Ru challenged the queens to don their favorite "Fascinating Fascinators." Here's a breakdown of who stayed heads above the competition.
Another woman who worked for Gov. Andrew Cuomo is describing conduct she felt was inappropriate for the workplace.
Sunday night's airing of a two-hour special hosted by Oprah Winfrey will provide the first, and unprecedented, peek into Meghan and Harry's departure from royal duties and the strains it has placed on them.
Michael Stanley, a Cleveland-based rocker who reached the Top 40 in the 1980s with the hits "He Can't Love You" and "My Town" before going on to a long career as a radio disc jockey, has died. He was 72.
Britain's royal family and television have a complicated relationship; the medium has helped define the modern monarchy.
Pope Francis walked through a narrow alley in Iraq's holy city of Najaf for a historic meeting with the country's top Shiite cleric Saturday, and together they delivered a powerful message of peaceful coexistence.
'Strike a pose... just like Dad' could be the mantra of Joseph Baena, who isn't necessarily recognizable by his last name, but is so instantly when he imitates his famous dad Arnold Schwarzenegger, as he did last week on Instagram.
An exhausted Senate narrowly approved a $1.9 trillion COVID-19 relief bill Saturday as President Joe Biden and his Democratic allies notched a victory they called crucial for hoisting the country out of the pandemic.
Dutch cress grower Rob Baan has enlisted high-tech helpers to tackle a pest in his greenhouses: Palm-sized drones seek and destroy moths that produce caterpillars that can chew up his crops.
The past year has fractured our world in countless ways. Now, as people look to pick up the pieces, those managing debt need to account for their position in our uneven economic recovery.
Electric car the Porsche Taycan offers similar capabilities to Tesla's Model S, plus the aura of Porsche's sports car-building ethos. Is it good enough to unseat the Model S? Edmunds' experts tested both to find out.
Dolce&Gabbana has filed a defamation suit seeking over $600 million in damages from two U.S. fashion bloggers who reposted anti-Asian comments attributed to one of the designers that led to a boycott.
A new national study adds strong evidence that mask mandates can slow the spread of the coronavirus, and that allowing dining at restaurants can increase cases and deaths.
With a vaccine roll-out and visions of luxury travel in my head, I contacted three of the best award booking services with three different potential trip requests for late 2021 to see if they really did save me miles and time.

And then there were...? Gay blogger BosGuy> reports the "space formerly occupied by the Boston Eagle is now for rent."