Gay Boston: The Latest
After more than 1,400 days of Donald Trump's presidency -- after two bitter elections, two impeachments, more than 26,000 presidential tweets and four years of near-constant upheaval -- it is left to American voters to tally it all up.
Ex-"Bachelorette" hunk Josh Seiter came out as pansexual recently.
Alt-right poster boy Nick Fuentes recently was made $250,000 richer in a weird Bitcoin transaction. He also expressed his distaste for homosexuality in an exchange with the drag queen Lady Maga, & dated a man in a cat suit.
President-elect Joe Biden will deliver an appeal to national unity when he is sworn in Wednesday and plans immediate moves to combat the coronavirus pandemic and undo some of President Donald Trump's most controversial policies.
Joseph Robinette Biden Jr. has navigated a half-century in American politics by relentlessly positioning himself at the core of the Democratic Party.
Members of President Donald Trump's failed presidential campaign played key roles in orchestrating the Washington rally that spawned a deadly assault on the U.S. Capitol.
Russian opposition leader Alexei Navalny was arrested Sunday at a Moscow airport as he tried to enter the country from Germany, where he had spent five months recovering from nerve agent poisoning that he blames on the Kremlin.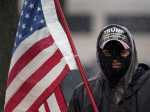 Small groups of right-wing protesters — some of them carrying rifles — gathered outside heavily fortified statehouses around the country Sunday, outnumbered by National Guard troops and police.
After a chaotic administration that's been disastrous for LGBTQ rights, uncertainty and realism are tempering expectations for Biden-Harris results.
RuPaul challenged the queens to riff on the slogan, "We're here. We're sheer. Get used to it." Here's our take.
The coronavirus was found on ice cream produced in eastern China, prompting a recall of cartons from the same batch, according to the government.
Usually cameras are trained on the celebrities at such shindigs but with the new HBO Max series "The Event," they have captured the cooks and servers toiling behind the scenes.
Chick-fil-A hit a roadblock this week in an effort to open a new location in Castro Valley. But was it traffic concerns or the company's stance on LGBTQ issues that ruffled the Castro Valley Municipal Advisory Council's feathers?
OnlyFans has been a boon for some during the Pandemic, including Aussie model Alec Nysten. But the 28-year old is seeing his revenue stream compromised by leaked pics.
After the train wreck that was 2020, you may well question whether it's worth trying to plan anything. But knocking off a few financial tasks early in the year can better prepare you for whatever 2021 has in store.
Trucks and SUVs will dominate the news in 2021. Edmunds' experts cover the five they think will make the biggest splash.
Italy's fashion chamber opened on Friday the first Milan Fashion Week that won't have VIPS populating runway front rows, as the reality of Italy's persistent resurgence of the coronavirus has forced an all-virtual format for presenting menswear previews.
The legislation would ban specific types of surgeries on infants born with intersex characteristics. Advocates are pushing to delay these types of surgeries until the child is old enough to develop a gender identity.
There is a ray of light for Parisians who, like the rest of the French nation this weekend, begin to observe a tightened coronavirus curfew: The famous Rodin Museum sculpture gardens is reopening to visitors.
The term "sexual fluidity" has come under scrutiny as researchers further explore the nuances our sexual expression, attraction and behavior.