Gay Boston: The Latest
Supreme Court nominee Amy Coney Barrett served for nearly three years on the board of private Christian schools that effectively barred admission to children of same-sex parents and made it plain that openly gay and lesbian teachers weren't welcome.
The long-gestating film adaptation of the Broadway hit "Wicked" has hit another snag. Director Stephen Daldry is exiting the project, a studio representative confirmed Tuesday.
"I just think that Trump doesn't understand addiction," said Diane Urban, 53, a Republican from Delphos, Ohio, who voted for the president in 2016 and whose son died from an overdose in 2019.
Activists dressed as security guards climbed onto a balcony of a Polish Education Ministry building and hung a banner protesting the appointment of a new minister whom they consider to be a religious fundamentalist and a danger to the nation's youth.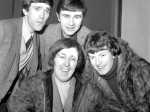 Spencer Davis, a British guitarist and bandleader whose eponymous rock group had 1960s hits including "Gimme Some Lovin'" and "I'm a Man," has died. He was 81.
A day after donning a face mask for the first time during a liturgical service, Pope Francis was back to his mask-less old ways despite surging coronavirus infections across Europe and growing criticism of his behavior and the example he is setting.
If Joe Biden defeats President Donald Trump next month, he'll quickly face a new challenge: standing up a new administration to lead a divided nation through a series of historic crises.
President Donald Trump is hopping from one must-win stop on the electoral map to the next in the leadup to a final presidential debate that may be his last, best chance to alter the trajectory of the 2020 campaign.
DOC NYC, America's largest documentary festival, announced the lineup for its eleventh edition, running online November 11-19 and available to viewers across the U.S.
A Trump-supporting pastor predicts a God-decreed change in Donald Trump's election chances; if not, people will be able to marry cows.
British footballer Matt Morton discussed his coming out process in an interview with the British site Sky Sport after he realized he was gay two years ago.
Boston, MA
"An Enemy of the People" serves as a chilling reflection of the dilemma our nation is facing
HBO announced Monday its popular teen drama "Euphoria" will return for two special episodes with stars Zendaya and Hunter Schafer.
Netflix's subscriber growth slowed dramatically during the summer months after surging in the spring fueled by pandemic lockdowns that corralled millions of people in their homes.
Microsoft Azure provides an ever-growing collection of services that ensure the success of businesses. Moreover, this leads to the opportunity for professionals to build an interesting and rewarding career.
President Donald Trump's sprawling political operation has raised well over $1 billion since he took the White House in 2017 — and set a lot of it on fire.

You've probably heard over the years a number of tips or myths regarding the value of your car. Edmunds' experts analyzed the most popular car value myths to find the truth behind them.
It's that time of the year again! In case 2020 isn't scary enough for you - here are five Halloween cocktails straight out of your nightmares!
As temperatures fall, people are spending more time indoors. That heightens the risk of the coronavirus spreading, but there are some simple steps you can take to help protect yourself and everyone around you.
Grab your weekender bag and get out of town. The leaves are turning, and there's a small window of time to take in Mother Nature's annual fashion makeover.
CBD Unlimited is a market leader within CBD industry. Better Products, Better You! Strive to Be Unlimited!
www.cbdunlimited.com