Gay Boston: The Latest
Although its hit mini-festival is over, Frameline continues to screen ticketed and free films online, including a series of narrative documentary and short films about AIDS.
Mississippi just ditched its Confederate-themed state flag. Later this year, the state's voters will decide whether to dump a statewide election process that dates to the Jim Crow era.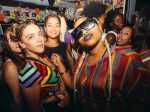 "The outpouring of love and donations on the various platforms has been incredible. But we need continued support until we reopen," says Henrietta Hudson owner Lisa Cannistraci. "I'm not going to lose the bar. I'm not going to let it happen."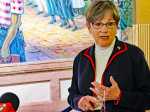 A Kansas newspaper posted a cartoon on its Facebook page likening the Democratic governor's order requiring people to wear masks in public to the roundup and murder of millions of Jews during the Holocaust.
As the coronavirus spreads in Africa, it threatens in multiple ways those who earn their living on the streets — people like Mignonne, a 25-year-old sex worker with HIV.
A car drove onto a closed freeway early Saturday and struck two people in a crowd protesting against police brutality, killing one and critically injuring the other, authorities said.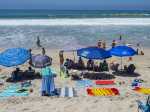 The U.S. has dipped under 50,000 new daily infections for the first time in four days, according to a tally by Johns Hopkins University, but experts fear celebrations for the July 4th weekend will increase nation's surging coronavirus outbreak.
On a day meant for unity and celebration, President Trump vowed to "safeguard our values" from enemies within — leftists, looters, agitators, he said — in a Fourth of July speech packed with all the grievances and combativeness of his political rallies.
Stone Mountain's supersized sculpture depicting Gen. Robert E. Lee, Confederate President Jefferson Davis and Gen. Thomas J. "Stonewall" Jackson mounted on horseback has special protection enshrined in Georgia law.
Johnny Depp's lawyers have failed to stop the American actor's ex-wife, Amber Heard, from attending his libel trial against the British tabloid newspaper The Sun until she is called to give evidence.
Vice President Mike Pence has long played the straight man to Donald Trump, translating the president's bombast into more measured, calming language.
Boston, MA
The Provincetown International Film Festival (PIFF) has announced "Provincetown Reimagined," presented by WarnerMedia, a modified festival with drive-in and virtual screenings running July 16-19, 2020.
After a three month hiatus from social media, RuPaul has deleted her Twitter account and scrubbed his Instagram account. And no one knows why.
For residents across America's Sun Belt — business owners and workers, consumers and home buyers — the past three months have delivered about the scariest ride in memory.
Google is served with the vast majority of "geofence" warrants because it stores information from millions of devices in a massive database known as Sensorvault.

Some newly unemployed people are taking advantage of special enrollment periods to sign up for plans offered on the Affordable Care Act's insurance marketplaces, while others find they qualify for Medicaid.
With summer in full swing, we typically see car dealerships heavily discounting excess inventory for the Fourth of July holiday. But the novel coronavirus and its effects make this year different than most.
Pride means more than rainbow T-shirts, especially for these innovative LGBTQ designers who are redefining what it means to be fashion-forward for the next generation.
The Alabama Department of Public Health said it could not verify reports of so-called COVID-19 parties where students deliberately tried to become infected, but also warned people not to try it.
RV sales and rentals are soaring. Are you planning a first-time getaway with your dog? Here's an essential list before you hit the road.
"We're resilient. I do believe we'll recover," says Chicago nightclub owner and LGBTQ community advocate Mark Liberson. "It's just a matter of when. Remember, the last pandemic led into the Roaring 20s."