Gay Boston: The Latest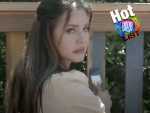 We're ranking Lana Del Rey's albums ahead of her new album "Blue Banisters," which arrives Friday.
The United States government had WWE great Pat Patterson in its sights for deportation in the 1960s because, newly uncovered documents indicate, there were fears that he might be gay.
"Too Hot to Handle" star Harry Jowsey apologized for a homophobic comment he made about popular YouTube personality James Charles.
The new Superman storyline allows bisexual teens to see themselves reflected in a world-famous character.
Ageism is a long-standing problem that's getting new attention during the covid pandemic, which has killed more than half a million Americans age 65 and older.
The Affordable Care Act requires nonprofit hospitals to make financial assistance available to low-income patients and post those policies online.
Margaret Atwood, whose 1985 novel "The Handmaid's Tale" is the basis for the dystopian Hulu drama, sparked a Twitter uproar when she shared an op-ed piece about gender-neutral language.
Ghana, considered more respectful of human rights than most African countries, faces scrutiny due to a bill in Parliament that would impose prison sentences ranging from three to 10 years for people identifying as LGBTQ or supporting the community.
A federal judge has denied motions to suppress video evidence found on electronic devices that were seized from former reality TV star Josh Duggar, who is facing child pornography charges.
Assistant Secretary of Health Dr. Rachel Levine — already the nation's highest-ranking openly transgender official — won a further distinction when she was promoted to the rank of Admiral on Oct. 14.
Cuba's socialist government recently published a draft Family Law and asked for public comment ahead of a referendum, creating an unusually public clash over policy on the island where Pentecostal churches have been growing.
Boston, MA
"Mamma Mia!," the international musical hit currently at the North Shore Music Theatre through October 17, remains fun because, well, it makes you feel good.
"Change of Habit" gets props for wanting to be socially aware. And it's a very watchable sit, if you don't mind a very mixed genre blend.
Netflix co-CEO Reed Hastings does not want to talk about the company's ongoing controversy surrounding Dave Chappelle's comedy special "The Closer."
Near the Twizzlers and Sour Patch Kids at It'Sugar are random items — fidget toys, fruit-shaped soft jelly candies — that earned a spot on the candy store's shelves because they went viral on TikTok.
Inflation at the wholesale level rose 8.6% in September compared to a year ago, the largest advance since the 12-month change was first calculated in 2010.
There are a number of new models on the horizon that promise big improvements. Here are five of them coming out in the next three to six months that Edmunds' experts believe will be worth the wait.

This year's fashion shows revealed a roster of eye-catching models that celebrate diversity and beauty in all its forms.

"Queer Eye" star Jonathan Van Ness jumped in when Marjorie Taylor Greene tweeted a comparison between Magic Johnson's HIV status and an unvaccinated NBA player being benched.
Hawaii's COVID-19 case counts and hospitalizations have declined to the point where the islands are ready to welcome travelers once again, the governor said Tuesday.
Just because you are in the middle of staying healthy and safe during the pandemic does not mean you have to forget about your sex life; you are your safest sex partner, and this toy can help you become your best partner, too.