Gay Boston: The Latest
When Channing Tatum conceived a revue based on his "Magic Mike" film franchise, he looked to have a conversation with women about how its hunky dancers should be viewed.
Christian Grey is tying up the loose ends of his side of the story this summer. "Freed: Fifty Shades Freed as told by Christian" is set to hit shelves on June 1, the publisher said Sunday.
A particularly spectacular blast from Italy's Mount Etna volcano belched out a towering cloud of ash and lava stone Sunday onto Sicilian villages, the latest in a series of explosions since mid-February.
A largely undetected movement to depress turnout and spread disinformation about Democrat Joe Biden targeted Latinos, was promoted on social media, and was often fueled by automated accounts.
When queer actor Justice Smith auditioned for the new HBOMax series "Genera+ion," he wasn't sure if he wanted to play a high school student again, until he embodied his character.
She's been called "basic," and she's been called "seasoned." She's also been called a "workhorse queen." But when Mrs. Kasha Davis is served up shade, she turns it into glamor and comic gold.
Pope Francis urged Iraq's Christians on Sunday to forgive the injustices committed against them by Muslim extremists and to rebuild as he visited the wrecked shells of churches and met ecstatic crowds.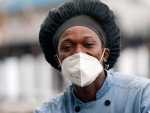 As more jurisdictions lift mask mandates and ease restrictions on businesses, essential workers are concerned they could be less safe s the pandemic continues.
President Biden plans to sign an executive order directing federal agencies to promote voting access as congressional Democrats press for a sweeping voting bill to counter efforts to restrict voting access.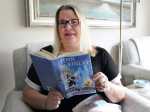 For those who find their dreams in books, there's a group of readers who are hungrily consuming a particular style of narrative to escape from the past year's reality: "Cozy" mysteries.
Carnival is usually the highlight of the year for Cyprus, when residents let loose in bizarre and colorful costumes, joyfully dancing and celebrating during the Mediterranean island nation's biggest annual party scene.
The Recording Academy is partnering with Berklee College of Music and Arizona State University to complete a study focused on women's representation in the music industry.

Republican state lawmakers are pushing for social media giants to face costly lawsuits for policing content on their websites.
Nimble, highly skilled criminal hackers believed to operate out of Eastern Europe hacked dozens of companies and government agencies on at least four continents by breaking into a single product they all used.
The past year has fractured our world in countless ways. Now, as people look to pick up the pieces, those managing debt need to account for their position in our uneven economic recovery.
Electric car the Porsche Taycan offers similar capabilities to Tesla's Model S, plus the aura of Porsche's sports car-building ethos. Is it good enough to unseat the Model S? Edmunds' experts tested both to find out.
Dolce&Gabbana has filed a defamation suit seeking over $600 million in damages from two U.S. fashion bloggers who reposted anti-Asian comments attributed to one of the designers that led to a boycott.
A new national study adds strong evidence that mask mandates can slow the spread of the coronavirus, and that allowing dining at restaurants can increase cases and deaths.
With a vaccine roll-out and visions of luxury travel in my head, I contacted three of the best award booking services with three different potential trip requests for late 2021 to see if they really did save me miles and time.

And then there were...? Gay blogger BosGuy> reports the "space formerly occupied by the Boston Eagle is now for rent."