Gay Boston: The Latest
Adult Filmmeister Michael Lucas took his latest shoot on the road — to Nottingham, England to be precise, and appears to have flaunted Britain's COVID-19 guidelines.
In recent weeks, Queensland and the ACT became the first Australian jurisdictions to ban conversion therapy but a national approach is needed.
Two months after a wooden statue of Melania Trump was destroyed by arsonists near her hometown in Slovenia, it's been resurrected, this time in bronze.
RuPaul broke an Emmy's record with his fifth consecutive win for Outstanding Host in a Reality Competition Series. In his thank you speech, Ru gets political and dedicates the award to the late Chi Chi DuVane.
In an online fundraiser for two nonprofits, dozens of acclaimed actors and musicians perform intimate excerpts from the gay playwright/composer/author's plays, songs, poems and essays.
A New York couple recall their wedding officiated by Ruth Gater Ginsburg.
Riding high on a performance for the ages, 21-year-old Tour de France rookie Tadej Pogacar was cruising into Paris with the race leader's iconic yellow jersey Sunday, on his way to becoming the youngest post-war winner of the showpiece event.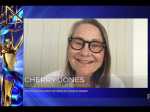 The glitch at the virtual creative arts Emmy telecast was minor, but it may have provoked flashbacks for the host of Sunday's more ambitious main TV awards ceremony.
Now, just 44 days before Trump's reelection will be decided, Republicans are again looking to a Supreme Court nomination fight to unite a deeply fractured party as it faces the very real possibility of losing the White House and control of the Senate.
In a virtual Emmys version of the wrong-winner Oscars gaffe, Ron Cephas Jones' guest actor award for "This Is Us" was announced for another nominee, Jason Bateman.
If Arizona Democrat Mark Kelly wins a seat in the U.S. Senate, he could take office as early as Nov. 30, shrinking the GOP's Senate majority at a crucial moment and complicating the path to confirmation for President Donald Trump's Supreme Court nominee.

González and Altamirano share a palpable chemistry, whether their characters are sneaking passionate kisses, having passionate sex, or cuddling up contentedly for a good night's sleep.
It took a pandemic with high incidence of respiratory symptoms to nudge Las Vegas toward a smoke-free environment, but Park MGM and NoMad Las Vegas are hopefully setting a trend that other casinos and resorts will soon follow.
President Donald Trump said Saturday he's given his "blessing" to a proposed deal between Oracle and Walmart for the U.S. operations of TikTok, the Chinese-owned app he's targeted for national security and data privacy concerns.

From Broadway to Hollywood, many actors, directors, backstage workers, musicians and others in the performing arts face similar coverage suspensions.
Edmunds' experts performed a full evaluation of the Kia K5 to answer the question: Is it better than the Honda Accord?
All dressed up and no place to go seems to be the theme of New York Fashion Week 2020. While the high impact of in-person presentations has mostly come to a halt, there's still plenty to see from veteran as well as up-and-coming designers.

The fitness industry has begun to push back at the pandemic-driven perceptions and prohibitions. "We should not be lumped with bars and restaurants," says an executive from the International Health, Racquet & Sportsclub Association.
Nearly six in 10 Americans have a new appreciation of nature during quarantine, according to new research.
For the first time, acoustic wave technology for treating ED is now available in an at-home product, The Phoenix. The results? Let's just say they rise above expectation.