Rage Monthly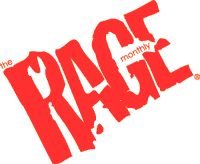 Check out Rage at ragemonthly.com.
With a song in his heart and a wicked sense of humor up his sleeve, Randy Rainbow has made quite a name for himself in the world of parody... and, yes, that is his real surname.
Now in its third year, the "dress to impress" event, sponsored by the Port of Long Beach, features a complimentary Champagne greeting, delicious small plates, as well as a no host bar and live entertainment.
A number of powerful films depicting the early years of the HIV/AIDS crisis are rightly considered classics. We can now add to this list Robin Campillo's excellent addition, "BPM (Beats Per Minute)."
This holiday season Skylight Theatre Company asks audiences to join them as they examine transformation, humor, complex relationships and authenticity.
Every once in a while you get to bear witness to something that changes not only your view on the world but alters the course for everyone who comes in contact with it. "As One" is definitely one of those moments.
In wrapping up their thirtieth anniversary season, the San Diego Women's Chorus is delighting in the opportunity to celebrate and connect with Mother Nature, bringing sunny San Diego a sampling of all things elemental.
Shakespeare once wrote in the play "As You Like It" that "All the world's a stage, and all the men and women merely players." The tried-and-true adage is something actor Adam Pascal can certainly relate to.
Is it true that everything old is new? Perhaps everything is just old? Maybe just timeless? Playwright Jen Silverman investigates this concept.
After roughly a decade passing by, organizers Big Mike, Robert Rodriguez and the Imperial Court de San Diego are reviving the Mr. Gay San Diego competition.
The sacred ground of the freedoms we enjoy today were built on the pain and suffering of those who came before us.
The Del Mar Race Track will play host to the Breeders' Cup on Friday and Saturday, November 3 and 4, bringing with it all of the prestige that is synonymous with this rousing equestrian event.
Many people who spend hours in the gym are trying to get lean and toned, but somehow it ends up being harder than anticipated. What does one have to do to actually tone muscles and see some definition?
"The View UpStairs," is based on the true story about a lively gay bar that was the target of a horrific arson attack on June 24, 1973.
Help to honor those men and women who paved the LGBT rights road and those who benefit from the accomplishments and services of The San Diego LGBT Community Center.
"We hope visitors to the show walk away with a better sense of the wide-reaching and dynamic scene these artists fosters in the '70s and '80s and the sense of playfulness and possibility that permeated their work across art, life, and activism."
With a sweet, alluring twinkle in his eye, Carbonaro's quick, intelligent mind springs the trap set for you, doing so before you realize you've even been ensnared. There's magic afoot for sure, and it's often hilarious to boot.
LGBT representation has been slow to arrive on the bridges of any "Star Trek" franchise, but finally "RENT" star Anthony Rapp and fellow RENT alum Wilson Cruz play a 23rd Century gay male couple on "Discovery." Rapp shares his insights.
Cygnet Theatre is now in rehearsals for the San Diego premiere of the witty, sequin-filled musical comedy "The Legend of Georgia McBride." Star Spencer Bang reveals the story behind the sequins.
When "Drag Race" alum Shangela takes the stage as the hostess of "RuPaul's Werq The World Tour," this queen is totally prepared to "Bring it!"
Last year's inaugural TransNation Film Festival succeeded as a more in-depth exploration of our trans community than most LGBTQ events have offered to date.