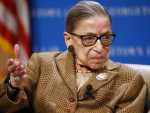 Supreme Court Justice Ruth Bader Ginsburg died Friday at her home in Washington, the court says. She was 87.
Diana Rigg, a British actress who became a 1960s style icon as secret agent Emma Peel in TV series "The Avengers," has died. She was 82.
Influencer and YouTube star Ethan Peters, known as Ethan Is Supreme, has died. He was 17.
Randall Kenan, an author whose stories explored the experience of being Black and gay in the American South, has died. He was 57.
Chadwick Boseman, who achieved international stardom at the titular character in "Black Panther," died Friday from complications from colon cancer. He was 43.
Cheryl and Corrina Thinn are among hundreds of U.S. health care workers who died after helping patients battle the virus.
Roman Heart, the award-winning adult performer, reportedly died late last year, according to his friend and a number of social media posts that have come up in the last week. He was 33.
"RuPaul's Drag Race" star Chi Chi DeVayne has died after a stint in the hospital. She was 34.
Former Illinois Gov. James R. Thompson, whose prosecutions of public officials — including a predecessor — helped catapult him to become the state's longest-serving chief executive, has died. He was 84.
Sumner Redstone, who built a media empire from his family's drive-in movie chain, has died. He was 97.