Top Story
"When we're voting, it's easy to think it's just for a candidate or party we align with, but it's so much more than that," says Drag Out the Vote'...
1 thru 10 of 56507 Stories
With nine days before Election Day, more people already have cast ballots in this year's presidential election than voted early or absentee in the 2016 race as the start of in-person early voting in big states led to a surge in turnout in recent days.
Senate Republicans voted overwhelmingly Sunday to advance Supreme Court nominee Amy Coney Barrett toward final confirmation despite Democratic objections, just over a week before the presidential election.
Among transgender-rights activists, there's a powerful mix of hope and fear heading toward the Nov. 3 election.
Vice President Mike Pence plans to maintain an aggressive campaign schedule this week despite an apparent outbreak of the coronavirus among his senior aides, the White House said Saturday.
Pope Francis on Sunday named 13 new cardinals, including Washington D.C. Archbishop Wilton Gregory, who would become the first Black U.S. prelate to earn the coveted red hat.
About 70 LGBTQ Trump supporters and allied housewives marched for Donald Trump in heavily Democratic WEHO Friday night.
Republican claims that Democrats would expand the U.S. Supreme Court to undercut the conservative majority if they win the presidency and control of Congress has a familiar ring.
The one thing most likely to conjure nightmares of the 2016 election night for opponents of President Donald Trump is the Needle.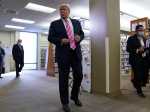 President Donald Trump said he voted Saturday "for a guy named Trump" and called it an "honor" to cast his own ballot in his adopted home state of Florida before he jetted off to campaign in three battleground states.
LGBTQ History Month is having a much broader impact in Illinois this year, thanks to a new law that mandates the teaching of LGBTQ heritage in public schools across the state.
1 thru 10 of 56507 Stories