Top Story
Last month the GOP in New Mexico attempted to shame a Democratic candidate for a seat in the state's legislature by revealing his adult male entertainment past. On Tuesday, Ro...
1 thru 10 of 57037 Stories
The White House has shamelessly taken credit for honoring World AIDS Day "in a way that no president has before," according to Press Secretary Kayleigh McEnany.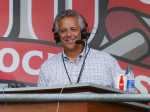 Sportscaster Thom Brennaman is "embarrassed" at having used a gay slur on-air during an August 19 game between Cincinnati and Kansas City.
Sen. Krysten Sinema (D-Ariz.), resplendent in a purple wig and zebra striped shawl, stole the show at the swearing-in of new Democratic colleague Sen. Mark Kelly on Wednesday.
Colombia has been gaining traction as the next hot spot for queer travelers. EDGE chatted with Out in Colombia's Sam Castañeda Holdren about why it's so appealing for the LGBTQ community.
Former U.S. Rep. Barney Frank and his husband, James Ready, are suing a construction contractor who they said abandoned the building of their home in Maine.
Deb Price, the openly lesbian columnist who began sharing her views as an LGBTQ person in a syndicated column in 1992, died on Nov. 20 after a years-long battle with a lung illness.
Advocates and lawyers anticipate a flurry of clemency action from President Donald Trump in the coming weeks that could test the limits of presidential pardon power.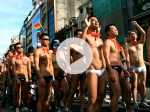 Taiwan held one of the world's only live Pride events in 2020, due to its efforts to control the coronavirus pandemic. LGBTQ civil rights activist Chi Chia-wei was prominently featured.
Up soon for President-elect Joe Biden: naming his top health care officials as the coronavirus pandemic rages. It's hard to imagine more consequential picks.
Lady Gaga and Oreo have teamed up for a limited edition line of cookies to "spread musical messages of kindness."
1 thru 10 of 57037 Stories