Gay Boston: The Latest
The Republican Party's self-portrayal as champions of law and order is colliding with searing testimony from police officers themselves.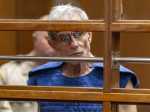 A federal jury on Tuesday convicted a wealthy California political donor on charges he injected gay men with methamphetamine in exchange for sex, leading to two deaths and other overdoses.
Police in Amsterdam said Tuesday that they are treating a brutal assault on a 14-year-old girl as a possible LGBTQ-related attack.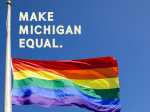 The Michigan elections board on Monday declined to certify an LGBTQ-rights ballot drive after determining it did not submit enough valid voter signatures.
The signs and banners are dotted along suburban commercial strips and hanging in shop windows and restaurants, evidence of a new desperation among America's service-industry employers: "Now Hiring, $15 an hour."
Simone Biles arrived in Tokyo as the star of the U.S. Olympic movement and perhaps the Games themselves. She convinced herself she was prepared for the pressure. That she was ready to carry the burden of outsized expectations.
Trans and non-binary people who were married in Illinois will now be able to obtain marriage certificates that reflect their authentic selves, thanks to legislation signed by Gov. JB Pritzker.
Author Charles Casillo talks about the turbulent, life-changing relationship he explores in his new book about two of Hollywood's most beautiful stars — Elizabeth Taylor and Montgomery Clift.
The Centers for Disease Control and Prevention announced new recommendations that vaccinated people return to wearing masks indoors in parts of the U.S. where the coronavirus is surging.
After being seen holding hands in New York last month, Tommy Dorfman and Lucas Hedges were seen cuddling at a movie in Hollywood last Thursday.
There may be new hope on the horizon for bringing the AIDS epidemic to a close: The Ending the HIV Epidemic in the U.S. (EHE) initiative, launched in 2019, takes a locality-based approach.
Multiple Grammy nominee (and 2021 winner) Ledisi took control of the Hollywood Bowl stage on Saturday night to perform selections from her new album, "Ledisi Sings Nina," and honor the legendary Nina Simone.
Senators and the White House are locked in intense negotiations to salvage a bipartisan infrastructure deal, with pressure mounting on all sides to wrap up talks and show progress.
The average number of tech devices per household has steadily increased, jumping to an average of 25 devices per household, according to one source. But why has this increase occurred?
Most advice about retirement planning focuses on how to save enough money to replace your paycheck. But work provides us with a lot more than income.
Tesla's quarterly profit has surpassed $1 billion for the first time thanks to the electric car pioneer's ability to navigate through a pandemic-driven computer chip shortage.
Celebrity chef Mario Batali, his business partner and their New York City restaurant company have agreed to pay $600,000 to resolve a four-year investigation.
The Department of Veterans Affairs on Monday became the first major federal agency to require health care workers to get COVID-19 vaccines, as the aggressive delta variant spreads.

A gay Cuban American journalist returns to his childhood home of Miami to explore Little Havana's legacy and the impact of queer Cuban culture.
Happy Dark Productions set sail on the San Diego Bay for their annual San Diego Pride closing party. Everyone danced the day and night away before headliner Todrick Hall closed out the night.