Art Basel brings the international art world together, with leading galleries showing the works of over 4,000 artists in cities throughout the world. Check out the latest news about their events here.
Art Basel, whose Lead Partner is UBS, takes place from December 5 to December 8, 2019 at the Miami Beach Convention Center (MBCC) Introducing a major new sector within the Miami Beach fair, Meridians.
During the Art Basel show, Art Basel Cities: Buenos Aires will present a series of large-scale sculptures by Argentine artists in Collins Park, Miami Beach.
Specializing in work that featured close-ups of intimate sexual acts, both straight and gay, Betty Tompkins has been on the edge where art meets eroticism. With an upcoming contribution at Art Basel, Tompkins was interviewed for the Art Basel website.
In 1983, David Hockney joined Chicago's Richard Gray Gallery to exhibit a new project — photo collages. It was the start of a most productive relationship.
As part of the 2019 Conversations program for Art Basel Miami Beach (ABMB), expect something personal and positive from the participants on the topics they are discussing.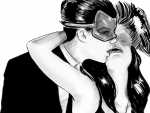 Snctm introduces its first-ever Masquerade party in Miami, expanding the members-only erotic brand's reach during premier art exhibit festival Art Basel Miami Beach, December 6th.
Art Basel Inside will bring together opinion leaders and entrepreneurs from across disciplines and industries for three days in Abu Dhabi in February 2020.