Fresh Fruit is Back... Inappropriate as Ever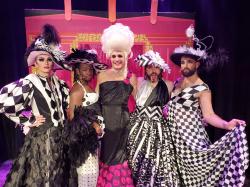 Fresh Fruit is back, inappropriately funny and timely as ever.
The satirical drag cabaret group that entertained Boston audiences for thirteen years in the early 2000s has returned to help us deal with the world in the age of Trump.
And there is certainly enough material with which to work.
Founding Fruits Michael Gaucher and Rodney VanDerwarker decided it was time to bring back the troupe that was last seen in 2013, but with new faces — Andrew Child, Scott Kearnan, Jaryd Towlson, and Brian Washburn.
The show, titled "Fresh Fruit Is...Born Again!," is a blend of new material as well as hits and videos from the group's original run.
Firmly rooted in the counterculture origins of drag, the self-declared equal opportunity offenders, take on everything from the Virgin Mary to Kellyanne Conway.
Highlights of the night include "Westbound Train to Worcester" ("Midnight Train to Georgia"), "All Fake News" (The Wiz's "No Bad News"), and "Miss Conway Regrets" (as in you-know-who). Their video to "P-town" (Petula Clark's "Downtown") is especially hilarious.
And while the overall evening is fun and good-natured parody, there are a couple of moments that verge on just shear bad taste. For example, is it really okay to satirize openly gay school children? Don't they get enough on a day to day? And to do it with Gilbert and Sullivan's "Three Little Maids from School" which is problematic at its core only adds insult to injury.
That said, the writing is largely smart, witty, and biting. Everything a good drag parody should be.
Oh, and don't forget the gowns. The costumes are fantastic throughout, but the finale gowns are showstoppers.
The main issue with the production is the venue. While a first glance Club Café would be the perfect place for such a performance, the room always has serious sound system issues. Mics go out, balance between music and performer is off, etc.
It does add a certain scrappy "let's put on a show" aesthetic, but it is frustrating for the audience when so much is based on the dialogue and lyrics.
With so much awfulness in the world today, groups like Fresh Fruit offer us a catharsis. We can come together and laugh at the ugliness — as well as just laugh.
"Fresh Fruit Is Born Again" will be performed at Club Café, 209 Columbus Ave in Boston, on select Friday, Saturdays, and Sundays through November 23, 2019. For dates, tickets and more information, visit the Bitter Bitch Productions website.
Comments on Facebook