'Harry Potter and The Cursed Child' Hits the West Coast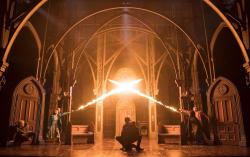 The most important thing to know about "Harry Potter and The Cursed Child" is that it's not just one play. This is actually two plays, each of them nearly three hours long and demanding back-to-back attendance to see it all.
Since the Harry Potter imprimatur previously spanned thousands of pages and nearly a full day's worth of feature film footage, this avalanche of material probably won't surprise most fans. But still, be warned that this is more than just another night at the theater.
Yes, this is the acclaimed, but also divisive ultimate sequel to all seven Harry Potter books, with a story credit for J.K. Rowling herself but mostly written by stage and TV scribe Jack Thorne, now open at San Francisco's Curran Theater.
That the show will be a hit is a foregone conclusion—prophesied, you might say. And the huge budget and (pardon the term) technical wizardry and design will send audiences away suitably amazed.
But the big question remains: Is "Harry Potter and The Cursed Child" actually a good play?
Set decades after the conclusion of Rowling's omnipresent book series, this show pushes grown-up Harry (John Skelley) into a supporting role and promotes his young son Albus (Benjamin Papac) into the hero's part.
Albus is the titular cursed child, but rather than a magical curse he's coping with the fear that he'll never live up to the reputation of his famous father.
Meanwhile, Harry—who we're reminded many times never had a father and seemingly never really came to terms with this—isn't quite sure how to manage a broody teenager, despite having raised a couple other kids already.
As family drama, "Cursed Child" actually is pretty good—nothing groundbreaking, but decent grist for at least a couple of fine actors—but only at the times when it gets out of its own way and lets the story do what it wants to do naturally.
Given the expectations of the property, first we need to navigate a dizzying main plot full of time travel predicaments, cryptic omens, and the potential return of the franchise's seemingly unkillable serial villain—whose name we're probably not supposed to utter here
(That's Andrew Long, swathed in possibly the strangest full-scalp makeup job ever produced onstage.)
Given the show's original 2016 opening, it's tempting to find the Nazi-like aesthetic of the villainous regime an uncomfortable analogue to modern politics. But this is probably more coincidence than intent.
The program tries to summarize the story thus far, but anyone not already steeped in wizard lore will be instantly and helplessly lost within minutes of the opening curtain.
The show is almost tragically preoccupied with minutia of previous stories. For some reason Thorne seems obsessed with one book in particular—"Harry Potter and The Goblet of Fire," published nearly 20 years ago—and grants that story and one character from it almost the whole spotlight.
The action is much better (or at least more authentic seeming) when Albus is just trying to hash things out with his dad or bonding with BFF Scorpius.
The son of the class jerk, Scorpius (Jon Steiger) is a delightfully nerdy new kid. Although both Thorne and director John Tiffany mostly confine him to one or two notes, Steiger is bursting with so much good humor that the show even makes him the hero on his own for a bit.
Other than that, the big star here is the overpowering spectacle. Actors vanish, contort, fly, shapeshift, and throw fireballs while almost never missing a beat, aided by Neil Austin's almost divine lighting design.
Creepy, swirly Dementor puppets float high enough over the audience to menace the mezzanine, and their robed silhouettes look almost unreal.
In one knockout trick, a Hogwarts teacher draws a door on a blackboard and then opens it into a real passage, and an incredible full-stage rippling effect accompanies the time travel trips.
The dragon remains offstage and there's no quidditch game, but other than that "Cursed Child" pretty much shows it all.
Christine Jones' gloriously gothic sets loom over all of this, and she displays some real creative chops. The show probably had the budget to just create a train replica onstage had they wanted to, but having the luggage spring up to represent the roof of the Hogwarts Express while the kids try to make an escape is much more charming.
"Harry Potter and The Cursed Child" is what you might call creativity run amok. Surely there's no other show like it in the world—there couldn't be—and for that it earns a spot in the history books.
Still, a few better creative decisions could have turned this show from something just dazzling into a true classic in its own right, which as it stands it's simply too muddled for. But as the script often reminds us, there's no changing what's gone on before.
"Harry Potter and The Cursed Child" runs through July 12, 2020 at the Curran, 445 Geary Street in San Francisco. For tickets and information, visit SFCurran.com
Comments on Facebook