Dr. Rocket's Twilight Carnival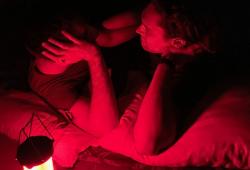 A few weeks ago, I posted about a unique and special theatrical experience I had that was presented by the theatre company Nocturnal Fandango. The play called "Take Me" was a 2-hour immersive solo experience that put me not only into the middle of the action, but I became a part of the story.
So it was an honor to be invited back to participate in the return of "Dr. Rocket's Twilight Carnival," which is a series of short one-act plays (around 30 minutes a piece) that vary in topic and theme. Some were more tender and quiet, while others were physically intense and intensely surreal. I had the pleasure of taking part in five of the one-acts over a period of two nights and while the experiences were shorter and varied in theme, they were still profound and thought-provoking.
When you enter into one of Nocturnal Fandango's worlds it's easy to be awkward. You aren't sure what to say or where to go. Some of it is a little weird and uncomfortable at first, but as the plays progress, the underlying themes start to peek through. Soon enough you are a part of a character's story and by the end, they are in yours. It's fascinating how the stories can be so odd but yet feel so relatable. And not only that, they often times become very personal.
While I liked each and every one-act I entered, two stood out for me. "Good Times at the Tumbleweed Drive-In" and "The Blood Comedies." "Good Times..." actually has two parts and I did them both over the two nights I was there. The first night I was met by a girl named Sam (Ashley Alexandra Love) who isn't sure she wants you to come to the drive-in, but after sizing me up, she allowed me to.
Once inside we sat in her makeshift '70s car and watched the movie. She spoke of being in love with a girl named Eve, but she was unsure how to tell her parents about her. Soon enough both of us were sort of sucked into the screen and become the movie of her past. There, I became "Eve" and her parents told us how they didn't condone the relationship and wanted to take Sam away for some unconventional therapy.
During this conversation, I couldn't help but interject my disapproval and all of the actors used how I reacted to inform how the scene would go. This occurred for the other two parts to this play, which had the three actors in the room shifting through different roles with ease.
The other main characters were Tenderheart (Baxter McCory) the drag queen having an affair with a married man, and Mitchell (Deshawn Cavanaugh) the black mechanic in the 50s who is dating a white girl which is about to be discovered by her less than forgiving brother.
All the while I was thrust into their stories experiencing the pain, heartache, joy, and confusion of each character. The first part of "Good Times..." ended with some hope that these three would move on with their lives despite profound heartbreak and I couldn't help but think about them afterwards. So it was a joyful surprise to be brought back to see the same characters again but in scenes where I got to see how they first met the people they loved. There was still that same through line of prejudice and/or confusion that reared its head, but it enriched the stories of these three souls stuck in the past and unable to move forward. Ultimately this part of the story was about the inability to leave the past behind and it was profoundly sad when I left them back in the drive-in. Their stories moved me and all three actors were stellar in their various incarnations.
The other play that stood out was "The Blood Comedies" which began with a naked man (Bobby Slaski), bloody and disoriented, slamming me into a wall and trying to get my attention — yet, I couldn't hear him. He was screaming at me but no sound would come out. When a noise was suddenly heard this prompted his voice to come through and suddenly apologized for his nakedness. He put on clothes and told me why he was trapped in the room and what he needed to do to get out. This story hit a few profound levels dealing with death, loss, and finding what is special about us all. Slaski nails the part and you feel a closeness to his character as the play goes on. In fact, that's the intriguing thing about these plays: you get this strange attachment to the characters you meet because you actually interact with them as yourself and it establishes a connection that becomes emotionally tangible.
Which is the amazing thing about the Nocturnal Fandango shows — there is truly nothing else like this out there. Whether it was the carnival show-people who showed me their "fibbles" (things that make us special) in "The Museum of Mostly Human Oddities" or the man(?) who is tasked to make whatever you wish for come true in "Wishbone" — you won't forget the characters you encounter and the stories you become a part of.
The thing is, if you choose to check out Nocturnal Fandango's work, be open to it. Don't go in trying to break the fourth wall or giggling your way through it. Give yourself over to the magic that it provides — because like most theatre, it has the power to affect you. And with Nocturnal Fandango, it has the power to change you.
Nocturnal Fandango's "Dr. Rocket's Twilight Carnival" ran Nov. 15-17th in a secret location in South LA. For more information about their next show "The Winter Machine" visit https://www.nocturnalfandango.org.
Kevin Taft is a screenwriter/critic living in Los Angeles with an unnatural attachment to 'Star Wars' and the desire to be adopted by Steven Spielberg.
Comments on Facebook