Top Story
Two-time Oscar winner Dame Olivia de Havilland turned 104 in Paris on Tuesday.
1 thru 10 of 3641 Stories
Lin-Manuel Miranda likes to picture the millionaire, Mr. Howell, from "Gilligan's Island," saying the brag. You know the one. "Well, I saw it with the original cast."
The shutdown on Broadway has been extended again — until at least early January.
In the aftermath of the shooting of George Floyd and the emergence of social protest, EDGE spoke to Rhode Island theater professionals about racial issues in Rhode Island theater.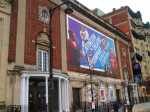 Huntington Theatre Company announced today that due to COVID-19, the start of the 2020-2021 season is being postponed and all in-person performances cancelled for the remainder of the year. Also, the company will institute lay-offs & furloughs in July.
Playbill has announced Pride Spectacular, a one-night only concert to be streamed this coming Sunday, June 28.
This week has been "Hamilton" week in the media with the release of the trailer and interviews with two of the principals appearing on "Good Morning America."
Pride Plays continues its streamed readings of plays by and about the LGBTQ community to support Broadway Cares/Equity Fights AIDS. Upcoming shows include a trans comedy, Mart Crowley's 'Boys in the Band' sequel and a star-filled music concert.
An all-star cast is being assembled for an upcoming live streaming of Mart Crowley's "The Men From the Boys," the 2002 sequel to "The Boys in the Band," streaming on June 26.
Boston, MA
The show sometimes cannot go on right away, but the conversation mustn't cease: That's a driving philosophy behind Company One's Better Future Series. Summer L. Williams and Jasmine Brooks tell EDGE more.
Some of London's biggest West End shows, including "Hamilton" and "The Phantom of the Opera," won't reopen until next year, producers announced, as arts bodies warned that Britain faces a "cultural catastrophe" because of the coronavirus pandemic.
1 thru 10 of 3641 Stories