Watch: Jason Momoa Makes 'SNL' Cameo, Shows Off Nipple Rings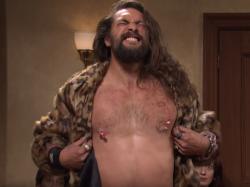 In case you missed it, Jason Momoa made a surprise appearance on "Saturday Night Live" this weekend, where he popped up in a skit spoofing daytime court TV shows.

In the clip, "SNL" host and musical guest Chance the Rapper played Judge Barry in "First Impressions Court" where he hands out "judgments based on first impressions."

The "Aquaman" star goes up against Kate McKinnon, who plays an elderly woman who claims Momoa's character stole her heart. The scene ends with the hunky "Game of Thrones" actor ripping off his leopard-skin shirt and shows off his nipple rings, which used to be her earrings.

Watch the hilarious clip below.
Comments on Facebook