Review: Modern and Timeless: The Psychedelic Furs Return with 'Made Of Rain'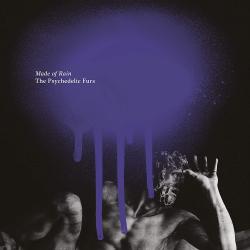 For a band that's been around nearly four and a half decades, The Psychedelic Furs aren't exactly prolific. The vast majority of their studio work — seven albums — took place in the 14 years between forming in 1977 and taking a hiatus in 1991. Singer Richard Butler recently explained to NPR that by the end of their initial tenure, the band had lost direction:
"I didn't want to go in the studio with the same bunch of guys and make the same-sounding record. I felt like I knew what it was going to be like and I knew what the work process was going to be like, and I felt like I even knew what it was going to sound like. And I didn't want that. I wanted a break from that."
In the 1990s, Butler and his brother Tim, bassist and a founding member of the Furs, formed Love Spit Love with guitarist Richard Fortus, releasing two albums — a self-titled disc (1994) and "Trysome Eatone" (1997). In addition to reactivating the Furs in 2001, Richard Butler released one solo album in 2006. Prior to the band's new album, "Made of Rain," the only new and original Furs track to see release is "Alive (For Once in My Lifetime)" on the band's 2001 live album "Beautiful Chaos."
So, why a new album now — 29 years after the last?
Discussing legacy acts like the Furs is always tricky — acknowledging the band's work while questioning expectations, both ours and theirs, about what the new work signifies. The Furs are a band that never entirely broke the US, even if "Pretty in Pink," "Love My Way" (recently prominent in the film "Call Me By Your Name") and maybe "Heartbreak Beat," to a lesser extent, are recognizable to audiences here. In the US, their audience has always been more geared toward clubs and small theaters — the Furs were never an arena band. But like their peers The Cure and Tears for Fears — two bands that have also teased the idea of new albums but have yet to deliver — their influence looms over contemporary rock. Bands like Franz Ferdinand and The Killers hybridize electronics and live band instrumentation in a very similar fashion.
After nearly three decades since their last record, the question of whether we, the audience, need another Psychedelic Furs album isn't relevant. Aside from the Butler brothers, only saxophonist Mars Williams played with the band in their '80s heyday; otherwise, half of this lineup is new, having played together at least as long as the original lineup. But the Furs had no obligation to write and record new material, especially in an era where records don't sell and they could regularly tour on the back of the band's already fine catalogue. So a more important question here is: Does the band need another Psychedelic Furs album?
It turns out, yes they do. In regularly touring over the last two decades, the band began to feel like "a jukebox," in Butler's assessment. So why not utilize the current lineup's chemistry and create something new? Working with musicians of such high caliber obviously raised questions about creative potential. After all, artistry is about creation... while a jukebox merely entertains. The band went into this project not attempting to re-create what audience might expect of the Furs, but rather to fully realize the creative possibilities of this lineup. And the results are fine.
There are markers of the band's inimitable style — namely in Butler's distinct vocals and the ways in which the band meshes live instrumentation and electronics. They've described this album as "rock and roll," but that's far too simple a summation. "The Boy Who Invented Rock and Roll," "Wrong Train," and "Don't Believe" rattle their cages and remind us that '90s Brit rock took its cues from this band.
Acoustic and electric guitars intermingle on "You'll Be Mine" and the David Bowie-esque "Hide the Medicine," with colorful synths and inventive rhythms throughout that depart from standard rock beats. The Furs get funky on "Come All Ye Faithful," ornate on "Tiny Hands," and breathtakingly melancholy on "This'll Never Be Like Love" and "Ash Wednesday" (both of which recall The Cure's "Disintegration" more than anything in the Furs' own catalogue). Williams shines on sax, with gorgeous solos ("This'll Never Be Like Love" in particular) and pulling back to add color where necessary ("Don't Believe," "Come All Ye Faithful," and "Stars").
The album title was inspired by reading Brendan Kennelly's "The Man Made of Rain," reflecting Butler's skew toward both melancholy and anger. "Everything I never said comes crashing on my tiny head" captures a sense of regret in "Don't Believe," while in the similarly remorseful "Wrong Train" he purposefully deploys humor (he's got "a wife that hates me, so does her boyfriend"). "This'll Never Be Like Love" and "Turn Your Back on Me" offer a reluctant acceptance of a relationship's end, while "No-One" is a dark-hued (perhaps even Buddhist?) examination of self-reliance, nothingness, and being alone in the world. And despite the darker forces at work, even in creation ("The Boy Who Invented Rock and Roll"), album closer "Stars" reminds us "these are the days we will all remember." But ambiguity compels the question of how, exactly, we will remember them, and why.
Fortus' and the band's production work, and Tim Palmer's mixes, allow space for every instrument and voice in the sonic soundscape without ever becoming too cluttered and busy. What is particularly impressive about "Made of Rain" is how the inspired songwriting and performances are framed with a simultaneously modern and timeless sound. The album is a fine addition to legacy of the Psychedelic Furs, yes. But more importantly, it works well as a first musical statement by the current incarnation of the band. Here's hoping it's not the last.

"Made of Rain"
The Psychedelic Furs
$9.99 (digital), $11.99 (CD), and $29.99 (vinyl)
The Psychedelic Furs Store
Kevin Schattenkirk is an ethnomusicologist and pop music aficionado.
Comments on Facebook