Composer Max Ritcher Kicks Off October Tour with Entrancing Concert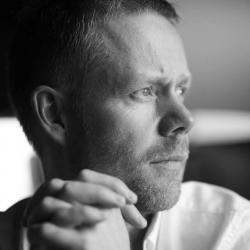 Composer Max Richter is one of the most unique musicians of this century. Working as a classical composer with electronic elements and also a prolific film composer, Richter has entranced audiences of all types for decades.

He's released solo works like 2002's gorgeous "Memoryhouse" and the recomposed and rearranged "Vivaldi — The Four Seasons," he's also remembered for his scores for "Black Mirror, "Mary Queen of Scots," and "Hostiles." But his most popular score in recent years is the haunting work he did on HBO's "The Leftovers." Moody, ethereal, tender, and powerful, while the TV series itself was a bit of a cult classic, the score also has its own dedicated fans.

Opening his latest tour (which continues this month with dates in Seattle, Austin, Chicago and New York) in Los Angeles at UCLA Cap's Royce Hall, Richter brings that score front and center, opening the spectacular night utilizing the American Contemporary Music Ensemble (ACME) as well as Academy of Music in London vocalist Grace Davidson.

But the other highlight of the evening was a 90-minute selection from Richter's masterpiece "Sleep" — a notable eight-hour composition based around the neuroscience of sleep. The entire 8-hour piece has been performed in its entirety in London, Paris, and Los Angeles, and has broken the Guinness World Record as the longest broadcast of a single piece of music. The (much) shorter version, known as "From Sleep," was performed last Saturday night after a brief intermission following selections from "The Leftovers."

While it is certainly a sleepy, restrained piece of music which can try the patience of antsy audience members, the hypnotic score mixed with the perfection of ACME and Davison made the piece float by like a beautiful dream. Contrarily, "The Leftovers" certainly is a gorgeous score, but there were more bombastic moments that filled the auditorium with the weight of its subject matter. Also utilizing a piano and synthesizers, Richter enriched ACME making it feel like Royce Hall was inhabited by a 200-piece orchestra. It was truly stunning and a wonderful treat in CAP UCLA's season.

"Max Richter: Music from 'The Leftovers' and 'From Sleep'" played Oct 12, 2019 at the Royce Hall, UCLA. For information about upcoming performances at the Center for the Art of Performance visit cap.ucla.edu. For more information about Max Richter and his current tour, visit his website.
Kevin Taft is a screenwriter/critic living in Los Angeles with an unnatural attachment to 'Star Wars' and the desire to be adopted by Steven Spielberg.
Comments on Facebook