Mamma Mia!
At several points during the screening of Mamma Mia!, I turned around in my seat to steal a peek at the other people in the audience. Admittedly, the crowd was in the target age bracket for the endearingly frivolous ABBA tribute, but still: the smiles on their faces were ear-to-ear. And in the cadence of the song "Money, Money, Money," I could hear the box office jingle.

I'll be honest: I wasn't a huge fan of the Broadway show, despite its status as a worldwide smash hit, seen by more than 30 million people in 160 cities and eight languages around the world. I did find the music engaging (of course), but as a $100-per-ticket show, it left me dry.

Not so the $10-per-ticket film; the price makes all the difference. And if even half of those devout fans of the show turn up to see Meryl Streep take on the role of Donna, the emotionally-charged mom who relives her past via her daughter's wedding celebration, the film will make over $100 million. And you know what? It deserves to. It's by far the most fun you'll have at the cinema this summer.

The story is popstick precious; Donna (Streep) is a single mother raising a daughter and running a small hotel on a idyllic Greek island -- and she fears she's failing at both jobs. When that daughter, Sophie (the plucky Amanda Seyfried) decides to marry a local hottie named Sky (Dominic Cooper), Donna is horrified to discover that Sophie has discovered the identities of her three possible fathers -- played by Pierce Brosnan, Colin Firth and Stellan Skarsgård -- and invited them all to the wedding. Adding to the chaos are Donna's two lifelong girlfriends Rosie (Julie Walters) and Tanya (Christine Baranski), who also have, in the past, also been Donna's backup singers in a star-studded stage show. The stage is set for comedic, emotional discoveries determined to undermine a picture-perfect wedding.

The plot was woven together as a support structure for ABBA's pop songs, but it's more than that and adequate to the task; you'd almost swear that ABBA wrote the songs with "Mamma Mia!" in mind. Credit goes to Judy Cramer, Phyllida Lloyd and Catherine Johnson for theatrical ingenuity both on stage and on screen -- they've managed to capture the easy fun of the show, and somehow convinced a bevy of A-list actors to roll with the beat. Perhaps that's easy when it's the beloved ABBA you've got to dance to; nonetheless, the picture was a huge risk.

And that risk pays off. Streep proves she has a capable voice and a total lack of fear; she ground the picture. Seyfried ("Big Love") and Cooper ("The History Boys") are charming as the young couple. Walters ("Becoming Jane") and Baranski ("Bonneville") -- both veterans who can sing well -- provide terrific comic relief. Even Skarsgård ("Pirates Of The Caribbean: At World's End") and Firth ("The Accidental Husband") sing along gamely, although former 007 Brosnan, for all of the necessary gravitas he brings to the cast, really can't hum a tune. But the supporting chorus and the picture's high energy offset any vocal shortcomings with toe-tapping zeal.

Ultimately, the picture belongs to Streep. Of course, that would be expected from anyone cast in the role of Donna. But it's relatively easy to stand in one spot and belt "The Winner Takes It All" on stage; the static blocking works as a construct of live theatre. Not so in film, and even given the dramatic scenery of Greece, singing a lengthy diatribe is no simple task. The 14-time Oscar nominee makes it work, imperfections and all.

Of course, you won't find CGI special effects here, nor car chases or even Oscar-caliber performances. You won't find serious filmmaking or deep intellectual thoughts. But when Streep, Walters and Baranski strap on glittering outfits and belt out "Super Trouper" and "Dancing Queen," you'll definitely find your toes a-tapping. You might even be tempted to sing along with a smile from ear-to-ear. And in a worse case scenario, you might find yourself dancing in the aisles.

It's OK, really. Losing yourself in a movie like "Mamma Mia!" -- well, that's the name of the game, isn't it? Drop your troubles at the door, take a chance (take a chance take-a take-a chance chance) and say "Thank You For The Music" by dancing along (and having the time of your life). Nobody will care; they'll be dancing too. It's ABBA, after all. Who can resist?
Mamma Mia!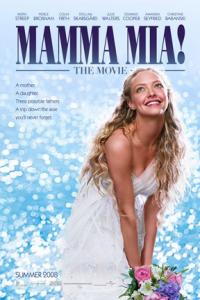 Info
Runtime :: 109 mins
Release Date :: Jul 18, 2008
Language :: English
Country :: United States

David Foucher is the CEO of the EDGE Media Network and Pride Labs LLC, is a member of the National Lesbian & Gay Journalist Association, and is accredited with the Online Society of Film Critics. David lives with his daughter in Dedham MA.
Comments on Facebook