Review: 'The Violent Heart" Will Elicit Giggles, Not Shocks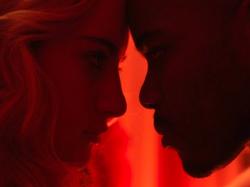 What starts out as a sort of modern-day "Romeo & Juliet" becomes a soapy melodrama about secrets and trauma that only survives because of its fine cast.
Written and directed by Kerem Sanga ("The First Girl I Loved") there is a lot to appreciate in his latest effort, "The Violent Heart." The two leads are exceptional, the score is lush and haunting, and it looks terrific. And as much as you watch the plot unfold hoping it doesn't go down the tragic roads it does, well, it does.
The film opens in a flashback where nine-year-old Daniel (Jordan Preston Carter) is thrilled to have his father (Cress Williams) home from serving in the Marines overseas. His teenage sister Wendy (Rayven Symone Ferrell) doesn't seem all that thrilled with his arrival, though, and soon enough she's sneaking out with a suitcase and getting in the car of a mysterious unseen stranger. Confused, Daniel jumps on his motor scooter (he's nine, mind you) and follows her only to find her giggling and laughing in the stranger's arms in the middle of the woods. But when Daniel turns to go, he hears two gunshots and finds the stranger has run off, and his sister bleeding in a hole in the ground.
Cut to fifteen years later, and Daniel (Jovan Adepo) is now an ex-felon working as a mechanic. He lives at home with his mother (Mary J. Blige) and fifteen-year-old brother (Jahi Di'Allo Winston). His sister Wendy is dead.
Meanwhile, we meet the confident Cassie (Grace Van Patten) as she sits bored in English class listening to her classmates flatly read Shakespeare while texting her father, who just happens to be her teacher. The two spend lunch together and seem like the best of friends. After he asks her to take his car to get an oil change, Cassie meets Daniel, whom she eventually asks for a ride back to school when her car is found to have other issues.
While Daniel is a little standoffish at first, Cassie lowers his guard and the two clearly show some chemistry. He explains he is going to Nashville in the morning to try and get into the Marines, and she talks about her father a lot.
When she's dropped off at school she goes to her father's classroom to give him the news about the car, only to find he might be having an affair with a fellow teacher. Startled by this new perception of her father, Cassie's demeanor toward him changes, so much so that she decides to convince Daniel to take her to Nashville with him. Reluctantly, he does, and after Daniel's meeting with a political figure trying to help him get into the armed forces despite his felony record, the two spend a romantic day together.
So begins their Romeo and Juliet story. You see, Daniel's felony is known in town, and her parents don't want her seeing him. But she continues to, and it seems as this will be the focus of the film. But instead, some remarkable coincidences pile up that give audiences a (supposedly) shocking series of revelations that become more ludicrous as the film comes to a close.
While the film is consistently compelling, it will be easy for audiences to guess at one of the Act III reveals early on. Even so, it's the characters of Cassie and Daniel that keep us invested, and it's to Adepo and Van Patten's credit that we do. They are both naturalistic and engaging performers that I was glad to be going on an emotional journey with. But when the film slips into late-night soap opera machinations, it begins to feel ludicrous. Which is a shame.
As written by Sanga, there are a few unanswered questions and some eye-rolling conveniences — too many for one movie to feel authentic. What he does to is direct a handsome film with a host of good performances that make you wish the story hadn't been so silly.
"The Violent Heart" has its share of violence and heart, but the two don't mix in this small-town tragic tale that ultimately garners giggles over shocks.

"The Violent Heart" is in theaters and On Demand February 19th.
Kevin Taft is a screenwriter/critic living in Los Angeles with an unnatural attachment to 'Star Wars' and the desire to be adopted by Steven Spielberg.
Comments on Facebook