Review: 'Give Or Take' A Fresh Look At An Old Story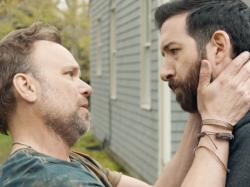 Most LGBTQ peeps have one time or another have been touched by the scenario of a gay relationship ending suddenly with the death of one of the partners. Instead of being allowed to grief properly, the survivor is immediately set upon by relatives of the deceased, most of whom have not been seen for years. If there is no kind of will, then all too often it's the case that the grieving widow/er is hastily evicted from the house that has been their home for years. Unprotected by the law, they are left helpless and homeless, whilst the estranged biological family makes a quick buck.

"Give or Take"  is a new spin on this old tale. Martin (Jamie Effros) has come home to Cape Cod to bury his recently deceased father, Kenneth. The two had become estranged after Martin's mother had died some years earlier, and Ken had come out as gay.

Ken had partnered with a younger man, his lawn guy, Ted (Norbert Leo Butz), and they'd been living together in Ken's house ever since. 

Martin had become disconnected from his father, never visiting or even phoning to maintain any contact. His own life back in New York was overly organized, leaving little room for any emotions, which he is now discovering his father was full of. 

Re-connecting with his old school mates, Martin discovers that his father was not the distant man he had been with him, but was very well-liked in the community for being a caring and compassionate man. It's something that Ted was also willing to share with him, but Martin couldn't accept their relationship and shut Ted out completely.

Without a will, the house which Ken had shared with Ted is left to Martin, and while he is staying there temporarily, Martin tries to sell it from under Ted's feet.

"Give or Take" is the feature film directing debut of Paul Riccio, from a script he wrote with his leading actor (Jamie Effros). This gentle tale is about love and loss and the need to be open to the realities and opportunities that may appear to be outside our comfort zone. It takes time for Martin to accept that embracing Ted's relationship with Ken is a way to mend the bond with his father that he now knows he should never have broken.

The scenario will sadly resound with many people, even though often in real life such situations will not end as well as this one does. This cautionary tale should be enough to convince any LGBTQ couple standing on the precipice of marriage to take the plunge 

Kudos to two-time Tony Award winner Norbert Leo Butz, making a far too rare appearance on the silver screen, for his finely-nuanced performance as Ted. We really should see more of him in movies.
Roger Walker-Dack, a passionate cinephile, is a freelance writer, critic and broadcaster and the author/editor of three blogs. He divides his time between Miami Beach and Provincetown.
Comments on Facebook