Tropic Thunder
Leave it to Ben Stiller to have the talent -- and the guts -- to mash up a comedy with an action feature, betting $100 million on the comic sensibilities of himself and his two co-stars, Jack Black and Robert Downey Jr. It was a huge risk, and it arrives this week in the cineplexes as a gloriously huge payoff for both Dreamworks and audiences. Put simply, Tropic Thunder is the best comedy of 2008, sure to send you into hysterical giggles even as it sends up the very industry that makes its existence possible.

Stiller stars as Tugg Speedman, an action film superstar whose sextuplet of brainless "Scorcher" films has burned itself out, spurning him to attempt "real acting" in the role of a (fully) retarded farm boy -- and then, when the picture flops, to star in an overblown Vietnam War picture in hopes of resuscitating his career. Speedman's co-star Kirk Lazarus (Downey Jr.) is an egomaniacal Australian thesp whose extreme dedication to his roles (including his most recent foray as a gay monk lusting after Tobey Maguire) results in experimental surgery to dye his skin in order to play a black soldier. Also along for the hilarious ride is doped-up Jeff Portnoy (Jack Black), whose pinnacle of success thus far has been portraying an entire flatulent "Fatty" family, ? la Eddie Murphy in "The Nutty Professor." Together with inexperienced Brit director Damian Cockburn (Steve Coogan), a slightly-deranged pyrotechnic techie named Cody (Danny McBride), rookie actor Kevin Sandusky (Jay Baruchel) and rapper-turned-actor Alpa Chino (Brandon T. Jackson), the movie rapidly grinds to a budget-busting narcissistic halt in the on-set jungle.

It doesn't take long for Hollywood to notice the delay -- and studio chief Les Grossman (Tom Cruise) to viciously berate the lot of them while peering through the square-frame lenses atop his bald head and dropping the f-bomb colorfully. Meanwhile, Speedman's agent Rick "Pecker" Peck (Matthew McConaughey) rails on about the horror of location filming without TiVo. In an effort to save the film, source writer John "Four Leaf" Tayback (Nick Nolte) recommends that Cockburn throw the cast into the jungle for real, something that sounds like a good idea at the time... until the fantasy of Hollywood meets the reality of the Southeast Asian jungle.

It's a brilliant setup, all the more hysterical for its insider homages to Hollywood. The film apes "Apocalypse Now," "Close Encounters" and more, slyly ridiculing production excesses and rampant egotism even as it subscribes to them. It doesn't always deliver; there are slow moments where the comedy seems to trickle along. But you'll laugh more often than not.

Downey Jr. and Cruise, ironically, are brilliant comic surprises, perhaps because we natively expect hysteria from Stiller and Black. But Downey Jr. completely disappears into the role of Lazarus, delivering brilliantly offensive deadpan commentary about racism even as he cracks you up so hard your stomach hurts. And Cruise nearly steals the show as the studio executive whose penchant for cash has him buying the movie, then selling it out to the insurance company when it appears its stars have gone missing. When he offers Pecker a private jet as payment for being a criminal accessory, he hammers home his point as he grinds to rap music via a hilariously lumpish ?ber-White Guy dance. Scary, but so unbelievably funny that "Tropic Thunder" might actually be considered his comeback film.

It all makes for a trip to the movie theatre that's so enjoyable it's nearly a shock in itself; I'd almost given up on Hollywood making comedies that are actually funny. "Tropic Thunder" not only re-establishes Stiller, Black and Downey Jr. as the baddest funny men in the business, it also begs the rest of the industry to measure up to its wit and budget, insisting that a good laugh, well-produced, is something we'll pay to see in such numbers that treating comedies and comedians as valuable commodities has a serious upside.
Tropic Thunder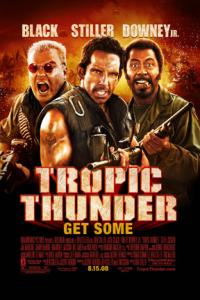 Tugg Speedman (Ben Stiller), pampered action superstar, sets out for Southeast Asia to take part in the biggest, most-expensive war movie produced, but soon after filming begins, he and his co-stars, Oscar-winner Kirk Lazarus (Robert Downey), comic Jeff Portnoy (Jack Black) and the rest of the crew, must become real soldiers when fighting breaks out in that part of the jungle.
Info
Runtime :: 107 mins
Release Date :: Aug 13, 2008
Language :: Silent
Country :: United States

Cast
Tugg Speedman :: Ben Stiller
Jeff Portnoy :: Jack Black
Kirk Lazarus :: Robert Downey
Four Leaf Tayback :: Nick Nolte
Damien Cockburn :: Steve Coogan
Kevin Sandusky :: Jay Baruchel
Cody :: Danny McBride
Alpa Chino :: Brandon Jackson
Studio Executive Rob Slolom :: Bill Hader
Tran :: Brandon Hoo
Byong :: Reggie Lee
Tru :: Trieu Tran
Rick Peck :: Matthew McConaughey
Lee Grossman :: Tom Cruise

Crew
Director :: Ben Stiller
Screenwriter :: Ben Stiller
Screenwriter :: Justin Theroux
Screenwriter :: Etan Cohen
Producer :: Ben Stiller
Producer :: Stuart Cornfeld
Producer :: Eric McLeod
Executive Producer :: Justin Theroux
Original Music :: Theodore Shapiro
Film Editor :: Greg Hayden
Cinematographer :: John Toll
Production Design :: Jeff Mann
Costume Designer :: Marlene Stewart
Casting :: Francine Maisler
Casting :: Kathy Driscoll

David Foucher is the CEO of the EDGE Media Network and Pride Labs LLC, is a member of the National Lesbian & Gay Journalist Association, and is accredited with the Online Society of Film Critics. David lives with his daughter in Dedham MA.
Comments on Facebook